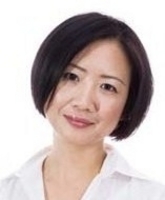 "My blessing is to help individuals live at their highest rate of joy, purpose, contribution and compensation," said Ping Li.
Belle Mead, NJ (PRWEB) December 5, 2009
Recent publishing trends indicate that interest in personal development has never been higher. But busy individuals may struggle to stay connected to the spiritual truths they have discovered in books throughout their day-to-day lives.
On December 15 at 10am Pacific, spiritual author Ping Li will be hosting a free spiritual teleclass entitled, "5 Simple Yet Profound Secrets to Shift Your Vibration and Take Your Personal and Professional Life to the Next Level of Success, Joy, Flow, Abundance and Bliss!" In this class, listeners will discover the author's unique techniques for spiritual and personal development in ways that fit easily into modern life.
Ping Li's path to becoming a spiritual teacher started in China, where she grew up. In her early twenties, she emigrated to the United States to pursue the American Dream with her husband. She attained her Master's Degree and succeeded in corporate America, had a family and even built a 7 figure business of her own—only to discover that something within her was still deeply unfulfilled.
This was what led her to study Reiki and vibrational healing with several master teachers, and to pursue a spiritual path. It was also what led her to discover, through a deep process of meditation and personal introspection, the principles and techniques outlined in Awakening: Fulfilling Your Soul's Purpose on Earth, her Amazon.com bestselling spiritual title.
Ping Li's book has been called "a great balance of spiritual and practical" by Dave Riklan, founder of SelfGrowth.com and "a beautifully written book that gives the reader plenty to ponder" by Kathleen Gage, best-selling author of The Law of Achievement.
Individuals who enjoyed Ping Li's trademark blend of spiritual insight and practical exercises in Awakening will find more of the same in her new teleclass, as well as a wealth of information for manifesting personal dreams. The teleclass will be presented via a dial-in teleclass; simple registration is required.
In this new spiritual teleclass, listeners will discover important keys for uncovering their soul's purpose in life, insight into the role that pain often has to play in spiritual awakening, as well as a key mental shift that can help to open the door to making personal dreams a reality.
"My blessing is to help individuals live at their highest rate of joy, purpose, contribution and compensation," said Ping Li. "My new teleclass is an opportunity for anyone interested in personal development and self-growth to shift their vibration and discover ways to manifest their dreams." http://www.SecretsToShiftYourVibration.com
Ping Li is the author of "Awakening: Fulfilling Your Soul's Purpose on Earth," an Amazon.com best-selling spiritual title, as well as a Reiki Master, vibrational healer and spiritual teacher. She offers a number of personal development and spiritual courses through her website, http://www.AwakenWithinPath.com
###