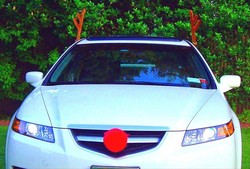 "We can now meet the huge demand for this product," says Sue. "The production time has been cut in half so this together with the new less expensive foam material allows us to pass the savings onto the customers."
Greenwich, CT (PRWEB) December 5, 2009
Inventor and patent holder of the now famous Reindeer Decoration for Cars, Sue Valeri, together with Williamsons Products a division of Williamsons, Inc., a Connecticut Corporation, announces the return to manufacturing of her popular patented Reindeer Decoration for Cars which will now be made out of foam in order to offer this Christmas novelty on a broader scale, for a lower cost and to a larger audience.
Over the past few years, demand for this popular Christmas decoration has grown. This prompted Sue, together with Williamsons Products of Greenwich, Connecticut, to come back to the table and develop a material that can be more easily mass produced. The answer was foam which proves to be less expensive, lighter in weight and more durable in the rain and snow.
Year after year this Christmas impulse product literally flies off the shelf. Pun intended. "Our customers are looking for this product and we want to be sure they find it – in every store." And now, with the new material, increased production time and lower price, these 2 antlers and red nose will make their way into every store's Holiday collection.
Williamsons Products, a division of Williamsons, Inc., is manufacturing Sue's entire line of patented holiday decorations for cars – Bunny Ears for Easter, Bat Wings for Halloween, Hearts for Valentine's Day, Shamrocks for St. Patrick's Day, the Reindeer Decoration for Christmas and Candy Canes for Christmas.
Next in line for Sue and Williamsons Products is her patented line of Sports decorations for Cars à a football, a football helmet, a basketball, a baseball, a soccer ball and a stockcar - each on a car flag pole. Imagine your favorite football team's logo on a foam football to display on your car to show your team spirit. Williamsons Products plans to work with the Professional teams as well as all College teams and NASCAR to put the team logos and mascots onto everyone's favorite sport for a fun car display. "We think this new Sports line of Decorative Kits for Cars could be an even bigger hit than our Reindeer Decoration. A car flag with a team's logo flaps in the wind and folds over when the car is stationary. This makes it hard for others to see what team you are supporting. If you have our foam football on a car flag pole, it is always stationary, will never flap in the wind and your team's logo and colors are always visible no matter how fast the car is moving", says Sue.
This idea came to Sue Valeri shortly after 9/11 happened. Numerous cars in Sue's neighborhood had car flags on their car windows to show support and patriotism. Many cars even had two car flags on their car. Sue envisioned the car flags could be antlers at Christmas time, bat wings for Halloween and bunny ears for Easter. This led Sue to make her own antlers and red nose and try them out on her own car. The reaction was simply incredible. Cars used to follow Sue into her driveway and strangers would wait on her porch for her to return because they knew this was the place to get the Reindeer Decoration for Cars. Sue went on QVC twice, ran some TV commercials and developed a huge following across the country. Year after year they sell out and year after year more customers everywhere are looking for their Decorative Kits for Cars.
Sue Valeri "Decorative Kit for Cars" U.S. Patents:
Nos. 522,956; 521,924; 534,479; 534,478; 534,476; 534,477.
Six additional patents pending for Decorative Kits for Cars.
Williamsons Products
Williamsons, Inc.
520 King of Prussia Road
Wayne, PA 19087
610-850-5402
http://www.williamsonsproducts.com
# # #