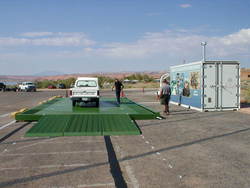 Salt Lake City, UT (Vocus) December 8, 2009
The patented Hydropads can solve two critical requirements of the SWPPP. First is spill containment. All chemical liquids, fluids, and petroleum products must be stored on an impervious surface with containment that is capable of containing 10% of the total enclosed tank volume or 110% of the volume contained in the largest tank, whichever is greater. Hydropads enable containment for equipment containing fluids, drum storage and even vehicle containment. The second area that green technology Hydropads can help is with industrial cleaning. All cleaning operations must be preformed either indoors or under cover or in a bermed area that prevents storm water runoff and run-on and overspray. The wash water must be collected for further treatment or storage.
About Hydro Engineering
Hydro Engineering Inc. is now in its 29th year of operation. The business and its manufacturing facilities are located in Salt Lake City, Utah, serving a growing number of product representatives, national accounts, three (3) United States GSA contracts and thousands of end users. The company is committed to providing the best value and most innovative products available to its customers.
###