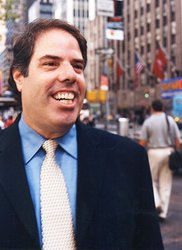 Best-Selling author and Personal & Organizational Accountability expert to discuss Organizational Transformation through Accountability
Los Angeles, CA (PRWEB) December 4, 2009
IMPAQ Accountability Business Consultants Inc., announced today that Mark Samuel, best-selling Author, renowned Speaker, and CEO & Founder of IMPAQ Accountability Business Consultants Inc., will present at the 14th International Coach's Federation (ICF) Annual Conference in Orlando, Florida, on Saturday, December 5th, 2009.
ICF hosts the year's largest global gathering of professional coaches, December 2-5 in Orlando, Florida. "ICF is a critical component for thought leadership in the business Consulting community," said Mark Samuel, best selling author of "Creating the Accountable Organization" and "The Power of Personal Accountability: Achieve What Matters to You" The premiere industry event expected to draw 1,200 attendees, over 40 expert speakers and more than 50 unique exhibitors. "ICF is a professional community that continues to thrive and make important contributions to inspiring individuals, building communities, and impacting the corporate world and I'm privileged to be asked to speak at the conference," said Samuel.
Samuel, considered one of the nation's foremost experts on Accountability CNBC and Bloomberg, will present strategies on Transformation through Accountability to provide attendees with strategies and tools to assist Organizational leaders in creating and maintaining transformational changes in their businesses. By focusing on accountability, participants will develop the ability to sustain business results through the challenges of human error, a strained economy and other changes in business conditions. Samuel has been featured in [Fortune Magazine as a top authority on how companies can end blame in the ranks and create a place where people want to work and get results.
About IMPAQ
IMPAQ is a global leader in Consulting & Training services that increase Personal, Team and Organizational Accountability. For more than two-decades, IMPAQ has successfully worked with Fortune 100 clients around the world to improve performance execution while achieving sustainable business growth. IMPAQ Founder, best-selling Author, and renowned Speaker, Mark Samuel, has successfully lead and delivered culture transformation to establish corporate transparency and high-performance habits that has resulted in improved Measurements, Performance, and Profitability! IMPAQ clients include American Express, Amgen, Chevron, Cox Communications, Disney, Edison International, Johnson & Johnson, Kaiser Permanente, Michelin, UC Berkeley, Texas Instruments, to name a few. Information on IMPAQ can be found at http://www.impaqcorp.com
SOURCE IMPAQ
# # #