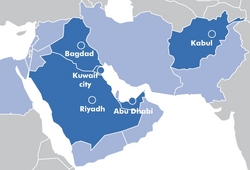 We will continue to grow throughout the Middle East, and elsewhere. Our clients appreciate our solid local experience and hard work
(PRWEB) December 6, 2009
What started as a small office in Kuwait, employing four people, has now grown to 12 offices in five countries, employing 124 staff and serving clients all throughout the region. Move One's latest expansion follows the opening of its office in Riyadh, Saudi Arabia, allowing the company to offer relocations, moving and logistics services in the country. With the largest economy in the region, The Kingdom of Saudi Arabia is an important location for a number of organizations, with huge numbers of expats living there, and large quantities of freight traffic. This is therefore an important step for Move One.
Meanwhile, in Iraq, significant expansions to the company's capacity at Baghdad Airport mean that military and civilian shipments are handled from different bases of operation, allowing much faster handling and shipping turnaround. In Irbil, in the north of the country, Move One is the first company to offer relocation services in the city. A stable and rapidly expanding center for Iraqi Kurdistan, this city attracts many international organizations and employees, and even has an international school. Move One's portfolio in Iraq also includes the transportation of hazardous materials, as well as working animals, such as de-mining dogs and livestock.
To the south, in Kuwait, the company has a proven capacity for handling heavy equipment into southern Iraq from Kuwait, which makes them an attractive option for oil and gas companies operating there.
Move One's managing director, Curt Clements, was delighted with the recent growth: 'Move One continues to go from strength to strength in the region. We are now offering full services in all the important markets there and through our trusted partner network we can in fact offer a seamless service to our clients throughout the Middle East, all through one point of contact.'
In addition to the Middle East, Move One's presence in Afghanistan is rapidly expanding with extensions to two of its facilities in Afghanistan nearly complete. 'The complex situation here creates significant challenges for both businesses and international organizations' said Move One's regional manager Robert Hass. 'Our proven record in handling shipments in difficult regions makes Move One a reliable partner that organizations can trust.'
Curt Clements is confident that Move One's growth in the region would go on: 'We will continue to grow throughout the Middle East, and elsewhere. We are winning contracts in the Middle East, in Afghanistan and Central Asia, which means that our clients appreciate our solid local experience, and hard work. I can safely predict more expansion from here.'
About Move One
The complete portfolio of services offered in the Middle East by Move One includes:

Afghanistan: Full suite of logistics services including air and ocean freight handling, on base deliveries, and customs clearance. Also handle animal imports, such as working dogs.
Kuwait: Full Relocations, Moving and Logistics, plus heavy transportation into southern Iraq
Iraq: Full moving and logistics services all over, plus destination services in Irbil, northern Iraq
Saudi Arabia: Full Relocations, Moving and Logistics (including ocean freight handling in Jeddah to and from Africa)
UAE: Full Relocations, Moving and Logistics
For information on our services in the Middle East and Afghanistan, please contact robert.hass@moveonerelo.com or contact the regional coordination center in Dubai (tel: +971 4 299 3006)
Move One is an integrated international assignment, moving management and global logistics company with 52 offices in 41 countries, and assists companies and organizations of all sizes with their global assignee management, relocation and logistics needs. Together with our industry leading via software and constant focus on innovation and quality we allow unmatched control and visibility to our clients.
Follow news and discussion on the global mobility and logistics industry at Move One's blog or follow us on twitter @MoveOneInc. Visit the Radix Technologies blog for the latest discussions on global HR technology and news on Radix's suite of SaaS global HR management applications, via.
###