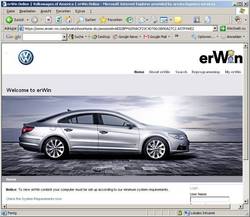 Valencia, CA (PRWEB) December 7, 2009 -–
arvato services announced today the implementation of erWin, an Internet-based solution that offers customers 24-hour service for repair information, for Volkswagen Group of America (VWGoA).
The erWin system, developed by arvato services for the Volkswagen Group, was adapted to the specific needs of both VWGoA and the North American market as part of an international rollout.
erWin provides its users all of the information necessary for professional repair and maintenance of Volkswagen vehicles. With its use, independent repair shops, vehicle fleets, corporate clients, and private individuals can now access the service information they need online, around the clock.
The repair and maintenance manuals, self-study programs, and training materials in erWin are supplied by the GITTA content management system, also developed by arvato services. GITTA converts the information to PDF files, which users can immediately download in erWin.
By using erWin, Volkswagen customers can save both time and money by no longer having to spend time searching for information, filing papers manually, or maintaining repair documents. With the system, there is also less of a risk that outdated information will inadvertently be used for repair and maintenance. erWin also complies with the regulations of the Environmental Protection Agency and the California Air Resources Board.
Using the latest digital rights management technologies, erWin ensures that up-to-date data is continuously available to its authorized users and protected from misuse by third parties. Users can gain access to erWin by purchasing time-based subscriptions.
"erWin is an intelligent system that can identify the smallest nuances between models," says Laurie Brown, General Manager of Service Information and Tools at VWGoA. "It helps our customers find the relevant information needed to carry out repairs quickly and correctly. By using the knowledge-based information logistics from arvato services, we are able to make our customer service faster and more efficient, and therefore, more competitive. Today's customers want to be provided with important information promptly and consistently. With its user-friendly features, erWin is proving to be very popular with our customers."
About arvato services:
The business segment corporate information management within of arvato services, a subsidiary of the international media and communication service provider arvato AG, is the leading specialist of solutions in the field of non-/digital information, marketing and merchandising logistics. International acting, this division offers services in the fields of publishing, content management solutions, crm, operations, marketing & sales support and supply chain management. For the implementation of effective solutions numerous sites in the most important economic areas of the world are available which are certificated according EN ISO 9001:2000.
###