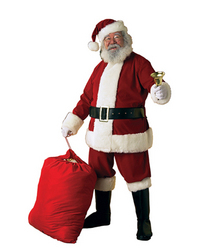 "A visit from Santa Claus brightens everyone's spirits making a Santa Claus suit an investment that can provide years of cherished memories."
Edison, NJ (PRWEB) December 7, 2009
Costume SuperCenter.com, one of America's largest online costume retailers announced that Santa Claus costume sales have increased nearly 10% over this time last year. These early projections demonstrate the value of Christmas spirit in a down economy.
Santa Claus suits at Costume SuperCenter.com are currently 25% off and range in price from just under $35.00 to over $400.00.
Jim Moore, Marketing Manager for Costume SuperCenter.com says, "When shopping for Santa Claus suits there is something for every budget. If you are planning to wear the suit for many years it pays to go for a quality professional Santa Suit. This is especially important if you are purchasing the suit for an organization, charity drive or other business. You'll want something with washability, wearability and comfort that you can use for several years. A Santa costume is truly a gift that keeps on giving."
As an added value to customers this year, many Santa Claus Suits are being sold with the beard and wig included.
"Christmas spirit may not be the only driving force. It's possible that the recent high unemployment rates may actually be driving the sale of Santa suits in men looking to make some holiday money while searching for full time work," adds Moore. "According to Simplyhired.com, a mall Santa's salary can average $24,000 for the season. Self employed visiting Santa's can get from $150 - $250 an hour. A good quality Santa suit is therefore a wise investment."
About CostumeSuperCenter.com
In 2005, Steve Mandell, founder of Party City decided to leverage his expertise in the Halloween costume business to create a costume website that makes purchasing costumes simple and convenient. Mandell recognized the need for increased selections, high quality and more fashion savvy designs in the marketplace and that costumes should be available year round at low discount prices. Thus, Costume SuperCenter was born. The online store features thousands of different costumes and accessories for people of all ages and pets too. CostumeSuperCenter.com also has one of the largest selections of hats, wigs, masks, accessories and make-up.
Contact:
Steve Mandell, CEO
Costume Supercenter
45 Fernwood Avenue
Edison, NJ 08837
###