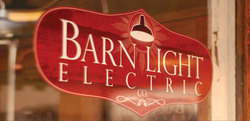 Our contact with Barn Light Electric was professional, knowledgeable and we found we were engaging with a team that possessed a true love of their product and what they were doing.
Titusville, FL (PRWEB) December 9, 2009
Barn Light Electric not only offers true American made and manufactured light fixtures, but they also consider their business to be a true American Dream. Simply put, it was the passion for a part time hobby that turned into a full time successful business. Beginning in 2001, Bryan Scott, Co-owner and founder, launched this business in his backyard barn. His well-restored American Made barn lights quickly caught on and the business began to grow. It was in February 2008 when Bryan and his wife Donna left their professional careers to manage the business full time.
Now, almost two years later, Barn Light Electric is still experiencing phenomenal growth. They are moving into their second, larger retail facility based in Titusville, Florida and Bryan has started to manufacture his very own brand of barn lighting and ceiling fans. Today, they are America's largest online retailer of authentic reproduction barn lighting, original restored vintage lighting, and galvanized ceiling fans.
The one thing that has stayed the same over the years is that they pride themselves on being American Made. Why does Barn Light Electric Company choose to only offer American Made Barn Lighting? The answer is simple – quality and the ability to deliver. Unlike some of their competition, they could have manufactured their barn lighting overseas to save money, but choose not to. They wanted their customers to never be concerned with quality or waiting several weeks, or even worse, months for delivery. They offer the best mid-range priced lighting on the market, guaranteed. So if you're looking for superior quality and true American made Barn Lighting that is never on back order, Barn Light Electric has it.
Regardless if you're decorating the kitchen, living room, bedroom, bathroom or even the barn, they have the best quality light fixtures guaranteed. They don't neglect the rural life style. Their lighting is a perfect match for the horse and equine barns, riding arena, and pole barns. Don't forget about the porch, deck, garage or outdoor lighting, they have those light fixtures as well. Just check out their gooseneck lights, pendant lighting, wall sconce lighting, chandeliers, post mount and restaurant lighting and see for yourself.
Do you need green high output (HO) lighting that is equivalent to HID (Metal Halide HD & High Pressure Sodium HPS), but provides energy efficient light? Barn Light Electric now stocks high bay lighting and linear fluorescent light fixtures. They also have compact fluorescent (CFL) options. They offer trade discounts to architects, interior designers, contractors, and builders and look forward to servicing all lighting needs.
Be sure to check out their blogs and Customer Project Submissions on their website. You'll find everyday, unique ways customers have used their lights, along with project photo submissions and up to date product reviews.
Barn Light Electric…the home of "The Original Barn Light"
Customer Review:
"During the restoration of a one hundred year old Northeast cottage our search to find unique industrial lighting as well as authentic barn lighting we discovered Barn Light Electric. Our initial attraction was the superior design and the depth of finish options, however, it soon became evident we had come across an excellent resource. Our contact with Barn Light Electric was professional, knowledgeable and we found we were engaging with a team that possessed a true love of their product and what they were doing. It enhanced our experience incredibly. What followed was stellar. We received our products promptly, on schedule and most importantly the quality not only met but exceeded our expectations. We have added Barn Light Electric to our resource library; and placed them in the front. We look forward to further installations."
Jeri Glatter & Steven Cohen
Rooster Designs
###