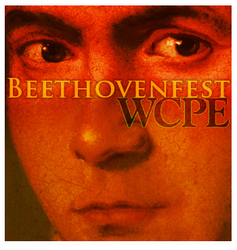 Ludwig van Beethoven towers as one of the greatest of classical composers.
Wake Forest, NC (Vocus) December 10, 2009
William Woltz, Music Director for WCPE, TheClassicalStation.org, announces today that in recognition of Ludwig van Beethoven's Birthday, WCPE is offering a Festival December 14 through 16, 2009.
Here is a listing of the Beethoven works offered (all times ET): 14 Mon; 8am Fidelio: Overture; 10am Piano Concerto No. 4 in G; 12pm Romance No. 2 in F; 2pm Piano Sonata No. 14, "Moonlight"; 3pm Symphony No. 5 in C minor; 7pm Symphony No. 2 in D; 10pm Piano Trio in B flat, "Archduke":
15 Tue; 9am Symphony No. 8 in F; 10am Piano Concerto No. 3 in C minor; 1pm Clarinet
Trio in B flat; 3pm Piano Sonata No. 23, "Appassionata"; 5pm Coriolan Overture; 7pm Violin Concerto in D; 9pm Symphony No. 3 in E flat, "Eroica"; 10pm Piano Sonata No. 8, "Pathetique":
16 Wed; 8am Egmont: Overture; 9am Symphony No. 6 in F, "Pastoral"; 11am Violin Sonata No. 9, "Kreutzer"; 12pm Consecration of the House Overture; 2pm Piano Concerto No. 5, "Emperor"; 3pm Symphony No. 7 in A; 5pm Leonore Overture No. 3; 8pm Symphony No. 9 in D minor, "Choral".
"Ludwig van Beethoven towers as one of the greatest of classical composers," says Woltz. "He triumphed over a total loss of hearing," he continues. "He wrote the most uplifting music the world has ever known."
The actual date of Beethoven's birth is not documented, but his infant baptism, also known as a Christening, held at his Catholic parish church was recorded December 17, 1770. It was customary in Catholic countries at that time to baptize infants the day after their birth.
Beethoven is the first composer to earn his living directly from his own work without being subsidized by a church or aristocrat. His piano-playing career ended in 1808 as his deafness became a detriment to his performances. Late in life, Beethoven began incorporating vocals into his musical compositions, laying the foundation for the Romantic Era in music.
WCPE's live broadcast of Great Classical Music, 24 Hours A Day can be accessed around the globe in several ways; on-line streaming in multiple formats, including IPv6, local cable television systems and traditional radio broadcasting. A complete list of the ways WCPE is available with instructions for cable and satellite reception can be found at: theclassicalstation.org/listen.shtml.
In central North Carolina and southern Virginia, WCPE is found on the radio at 89.7 FM.
For more information on WCPE, or to print a downloadable version of Quarter Notes, please visit TheClassicalStation.Org.
About WCPE:
With a 31 plus year history, WCPE is a non-commercial, 100 percent listener-supported, independent station dedicated to excellence in Great Classical Music, 24 Hours a Day. Community-minded business underwriters and foundations are among the 150,000 listeners in the North Carolina broadcast area. General Manager Deborah S. Proctor's leadership has enabled the WCPE community to include national and worldwide listeners. Other radio stations and cable television systems can rebroadcast Great Classical Music, 24 Hours a Day. WCPE is one of the first public broadcasters to stream on the Internet. WCPE is heard worldwide on the Internet in multiple formats, including the next generation IPv6. Because WCPE receives no tax-derived support, the station conducts two on-air fundraising campaigns and two major mail-out campaigns per year to raise needed operating funds. Quarter Notes, the WCPE Program Guide, is published four times a year as a means to enhance appreciation and understanding of classical music. It is distributed to station supporters and is also available online at TheClassicalStation.org/guide. For more information, visit TheClassicalStation.Org or call 1-800-556-5178.
Curtis Brothers
919.556.5178
curtis(at)TheClassicalStation(dot)org
###