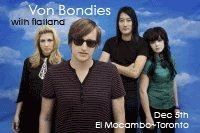 "What a great idea to bring music and the poorest of the poor together before the holiday season!!" - R.Piccininno
(PRWEB) December 4, 2009
This Saturday, December 5th, Gottarent and Real Estate Locators are proud to present an evening of entertainment featuring Detroit rockers the Von Bondies at Toronto's famous El Mocambo, downtown Toronto! During the Christmas season, it is all too easy to forget about the homeless as people get bogged down with shopping and holiday parties. Let's remember the reason for the season and do something for those that are less fortunate.
This event will definitely be a fantastic night of entertainment. For those people who saw The Von Bondies on one of their appearances on the Tonight Show with David Letterman, or at the 2009 Toronto Virgin Music Festival know that they are a live act not to miss. What better chance to see the amazing high-energy rock band than at an intimate club like the El Mocambo.
Opening for the Von Bondies is a band that is sure to be the next big thing in Canadian music. Fresh off the debut of their first studio album is flatland, a four-piece rock band that – according to all that have seen them – fully has 'it.' Don't be fooled by what alternative stations try to pass off as 'new rock,' because these guys are the real thing.
In addition to these two fantastic acts we will also be featuring Furious Pete. Who is Furious Pete? "If you are aware of restaurants that have the 72-ounce steak challenge then he will be right up your alley." says event promoter Ray Beck. Furious Pete holds the world record for eating the steak and all the trimmings in seven minutes and sixteen seconds. Furious Pete always has some great challenge planned for his performances. We are not going to say what he has in store for this event but rest assured it will be something to remember.
In addition to all of this, Toronto's premiere female turntablist DJ Ychuck will spinning be throughout the night. As well there will also be a silent auction and some fantastic door prizes for a lucky few who attend the event.
Plan to be at the show Saturday night because what Gottarent.com and Serving Charity have planned will make for an great evening out in support of a great cause. Doors open at 9:30 and everyone that attends is encouraged to bring a donation of non-perishable food items or gently used blankets and warm clothing, because that is, after all, the whole reason for the night.
###