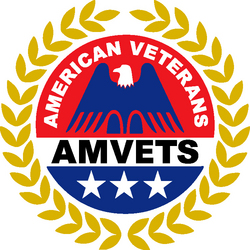 I'm very excited that AMVETS is stepping forward. It marks the first time that a national veterans' organization has taken a leadership role in exposing phony veterans
Linthicum, MD (Vocus) December 5, 2009
This afternoon, AMVETS, one of the nation's largest and most inclusive veterans' organizations, unveiled the new Web site, ReportStolenValor.org, a first-of-its-kind clearinghouse of information where concerned citizens can learn how to report phony veterans and see the latest headlines on those exposed for their lies. Falsely claiming veterans' status and displaying unearned military awards became a federal crime in 2006 commonly referred to as "Stolen Valor."
"Stolen Valor is a serious offense; one that cuts to the core of what it means to be a veteran and robs rightfully deserving vets of their hard-earned dignity and the honor of a grateful nation," said AMVETS National Commander Duane J. Miskulin. "While not a new phenomenon, Stolen Valor is on the rise and AMVETS is proud to be the first major veterans' service organization to address the issue in a substantive way."
At launch, ReportStolenValor.org will feature the latest headlines of exposed phony veterans, list the contact information for all concerned federal, military, and VA authorities who investigate fraudulent veterans' claims, links to local television network affiliates, and instructions on how to pitch potential Stolen Valor stories. Over the next year, the Web site will offer a detailed geographic database of investigative journalists from television, print and online media.
ReportStolenValor.org also provides a link to the Military Times Hall of Valor, a comprehensive database of more than 26,000 awards for military valor. The database, painstakingly researched by historian and Vietnam veteran Doug Sterner of http://www.homeofheroes.com, is the most complete compilation of verified valorous awards available to the public. AMVETS is proud to be working with Sterner to raise the national profile of Stolen Valor and its damage to the veterans' community.
"I'm very excited that AMVETS is stepping forward. It marks the first time that a national veterans' organization has taken a leadership role in exposing phony veterans," said Sterner. "The reason that this is so important is that Stolen Valor cheapens the service of others and warps the historical record. This problem is so large and so pervasive that it demands major national attention and should be a concern for all veterans."
Stolen Valor is serious offense that goes beyond maligning the true accomplishments of veterans. Phony veterans also routinely scam the Department of Veterans Affairs out of service-connected compensation, health care, and other benefits reserved for our nation's heroes, which is another reason AMVETS continues to push for critical legislative changes to stifle fraudulent claims.
In 2005, AMVETS advocated on Capitol Hill to strengthen the original Stolen Valor Act, expanding Stolen Valor beyond the Medal of Honor and outlining strict penalties. The new version was signed into law by President George W. Bush in 2006. Today, AMVETS is advocating for a federally-funded database of valorous award citations through support of H.R. 666, the Military Valor Roll of Honor Act.
AMVETS commissioned ReportStolenValor.org after recognizing the need for a national clearinghouse of information on the subject. ReportStolenValor.org will be another conduit in ensuring that the criminals who seek to exploit the veterans community can be prosecuted to the fullest extent of the law.
In addition to the support of Doug Sterner and Military Times, ReportStolenValor.org has the support of the Legion of Valor, a prestigious congressionally-chartered veterans' service organization reserved for only the most decorated American veterans; those who have received the Medal of Honor or any of the service crosses.
Legion of Valor members were on hand for this afternoon's launch of ReportStolenValor.org.
Media contact: Ryan Gallucci, rgallucci(at)amvets(dot)org, (401) 487-7921
About AMVETS:
A leader since 1944 in preserving the freedoms secured by America's armed forces, AMVETS provides support for veterans and the active military in procuring their earned entitlements, as well as community service and legislative reform that enhances the quality of life for this nation's citizens and veterans alike. AMVETS is one of the largest congressionally-chartered veterans' service organizations in the United States, and includes members from each branch of the military, including the National Guard and Reserves. To learn more visit http://www.amvets.org.
###