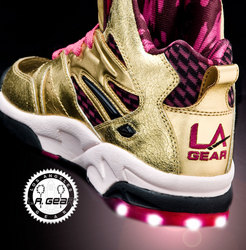 The design on these LA Lights shoes is authentic and true to what it was in 1992
Beverly Hills, CA (PRWEB) December 7, 2009
LA Gear-owner ACI (http://www.LaGear.com) and top indie retailer Sportie LA are following up their launch of LA Gear Originals - which featured updated styles from the Unstoppable line, '89-'90 - with a limited release of new LA Gear Lights. Reviving and updating its legendary LA Tech light ups from the early 90s, LA Gear is presenting limited quantities of the new sneakers. Mens Lights come in White/Silver, Green/ Olive, Black/Purple, and Blue. Womens Lights come in two colors, Red and Gold. The LA Lights go on sale December 12, 2009, at all Sportie LA stores and online at http://www.sportiela.com/lagear/lights.html, followed by a broader release in January 2010.
The first light up shoes were released with LA Gear's LA Tech line in 1992. The revolutionary sneakers came with red step-activated LED lights in the heels. Imitators followed, but none matched the success of LA Lights.
"The design on these LA Lights shoes is authentic and true to what it was in 1992," said LA Gear Director of Specialty Product Lance Jackson. "As with the Unstoppable line, our goal is to honor the history of the brand. We updated colors and materials, while remaining true to these iconic styles."
The new Lights will hit the market with fewer than one thousand pairs made per SKU. "We have plans for much wider production and distribution," Jackson assured fans, "but we decided to do a very limited rollout to make this initial launch a little more special."
In creating this new line of light ups, LA Gear drew upon a fresh and diverse mix of materials, including: nubuck, patent leather, leathers with metallic finishes, mesh, and some metallic-looking mesh.
Of the technology utilized in the new LA Lights, Jackson said, "The current lights are positioned in the exact same part of the shoe as the original, but these lights have a much longer battery life - about 7 years if worn daily - and are brighter than the lights used in 1992." Additionally, where only red lights were used in the earlier versions, colors this time around include blue, yellow, and white, and pink.
Jackson pointed to the success of this year's LA Gear Originals Unstoppable line as a major factor in the relaunch of the Lights. "We wanted to go chronologically as we expanded the LA Gear Originals line, and consumer enthusiasm has really inspired us to move forward," he said. Sportie LA co-owner Isack Fadlon concurred. "We get calls daily for the LA Lights," he said, "and if you follow the chatter on the Web, it's clear the interest level is extremely high."
While LA Gear traditionally enjoyed a strong women's following, sales of the LA Gear Originals line suggest that both men and women are gravitating towards the styles. "The KAJs, Fire High, and Star Shooter Hi have all sold remarkably well," said Fadlon, who expects both men and women to respond equally well to the Lights. "We've struck the perfect balance between fun and wearability," he explained. "Not everyone who buys a unique shoe is a collector. 90% of the people who buy the Lights will want to wear them a lot."
Ultimately, said Jackson, the light up shoes are synonymous with the brand. "Many people, when they think of LA Gear back in the day, they think of LA Lights," he concluded. "Some want a chance to wear these iconic sneakers again, and for others it's a chance to experience something new. It's the best of both worlds."
Following the initial release at Sportie LA's stores in Los Angeles, Sherman Oaks, and San Diego, CA, the LA Gear Lights will roll out to EVR in Cincinnati, OH; The Tannery in Cambridge, MA; Shoe Biz in San Francisco, CA; Little's in Pittsburgh, PA; and Sports Zone, Washington, DC, Maryland, and Virginia, among others.
###