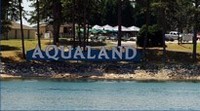 Flowery Branch, GA (PRWEB) December 5, 2009
Aqualand Marina won the award for Best Marina in Lake Lanier for the first time in the survey's three year history. In the 3rd Annual Lake Lanier Survey, locals voted on their favorite marinas, restaurants, parks, events and more. Aqualand Marina, the largest inland marina in the world, took first place over last year's winner.
A short drive from Atlanta, Aqualand Marina offers countless services and amenities to make vacation fun and easy. With nearly two thousand slips of various lengths, private shower and laundry facilities, dockside power and 24-hour security, Aqualand's amenities can meet every boater's needs, seasonally or annually. The marina also offers Lake Lanier's only self-service boat repair yard, complete with friendly staff and approved contractors. Aqualand Marina is unique in size and services and committed to customer satisfaction, which is why residents voted it as the "Best Marina" in Lake Lanier.
Find out more information about Aqualand Marina on the Lake Lanier in Georgia on a website or about the other winners of the 3rd Annual Lake Lanier Survey at http://www.lakelanier.com/200911161536/news/the-best-marinas-restaurants-and-parks-on-lake-lanier/.
# # #