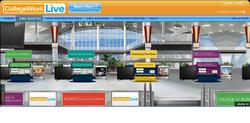 "By moving our Fall open house online, we cut 87% of the cost and doubled the number of qualified students who attended."
Boston, MA (PRWEB) December 4, 2009
An engaging website and a schedule of on-campus open houses are a staple in the admissions arsenal for most colleges. A new breed of college enrollment planners and admissions officials are adding to their reach and cutting costs by meeting with prospective students live via the web at all stages of the admissions process. Schools such as Texas Tech, University of New Haven and the University of California school system are turning to CollegeWeekLive for tailored virtual events which enable their admissions representatives to connect with students in a medium that they are at ease with – the internet.
CollegeWeekLive is the leading college fair worldwide. CollegeWeekLive enables students and colleges to meet live online throughout the year and is free to students, parents and counselors. CollegeWeekLive helps colleges improve yield by providing a new opportunity for students to meet live with school representatives, before making a campus visit. Results show that the benefits of a virtual event at CollegeWeekLive are several.
For example, UC Riverside typically stages an on-campus open house every autumn, but this year, given budget limitations, opted to move the event online at CollegeWeekLive. "In the past, we spent significant dollars to run a physical event and had 1,200 attend our Fall open house, only 300 of which were students," said Emily Engelschall, Director of Undergraduate Recruitment at UC Riverside. "By moving our Fall open house online, we cut 87% of the cost and doubled the number of qualified students who attended."
Texas Tech staged a virtual open house at CollegeWeekLive in July 2009 which featured virtual booths for admissions, campus housing and dining, financial aid, and student life. Attendees could chat with students currently enrolled in Texas Tech's ten academic colleges. One high school student who attended the virtual open house commented, "Coming from New-Jersey, I was unaware of the many advantages Texas Tech offers with regards to campus life, TECHniques Center, academic program, and pre-professional health program. I look forward to applying to Texas Tech later this fall." The seven hour open house event had nearly 500 visitors. "CollegeWeekLive was effective and user-friendly. We plan to host another virtual Texas Tech day in the spring of 2010, when students are making their final school choices." said Karen Hamel, Associate Director of Undergraduate Admissions at Texas Tech University.
Gil Rogers, Senior Associate Director of Admissions and Enrollment Technology at the University of New Haven is an ongoing participant in CollegeWeekLive events. He is staging a virtual open house at CollegeWeekLive Sunday December 6, 2009. "We schedule several on-campus events for prospective students on multiple dates each Fall to meet the scheduling needs of students and their families," said Gil Rogers "CollegeWeekLive lets us extend our reach to a broader audience of students that might not be able to visit with us on campus due to travel costs or time constraints. We are inviting more than 100,000 students who have previously expressed interest in our university to our upcoming event."
CollegeWeekLive offers a visually engaging, interactive environment. A virtual open house at CollegeWeekLive is an ideal solution for admissions offices in cost-conscious times. Colleges can save money and better qualify their prospective applicants while extending their reach to students who might not be able to drive or fly to the school for an open house. If you are a student or parent interested in attending an upcoming Virtual Open House at CollegeWeekLive, visit http://www.CollegeWeekLive.com to register for free. If you are an admissions representative interested in reserving a date for your college or university in the Virtual Open House Series, contact 617.938.6000.
About CollegeWeekLive
CollegeWeekLive (http://www.CollegeWeekLive.com) is the world's biggest college fair and it meets entirely online. With hundreds of colleges and universities exhibiting and more than 200,000 registrants, the events revolutionizes college admissions, making the process easier and more cost-effective by bringing students, parents, counselors and colleges together online, transcending time and distance. CollegeWeekLive is free service for students and parents.
CollegeWeekLive is produced by PlatformQ, whose mission is to connect people, companies, organizations and associations worldwide to meet, interact and learn from leading experts and thought leaders through proven interactive tools at online events.
CollegeWeekLive and PlatformQ are trademarks of PlatformQ, LLC. All other trademarks or service marks are property of their respective owners.
# # #