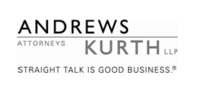 This group of new partners carries on a tradition at Andrews Kurth of recognizing exemplary legal work
Houston, TX (Vocus) December 5, 2009
Andrews Kurth LLP announced today the election of four of its lawyers to the partnership. Timothy S. McConn, Dena Palermo, Joseph A. Patella, and Hoang Vu will assume their new positions on January 1, 2010.
"This group of new partners carries on a tradition at Andrews Kurth of recognizing exemplary legal work," said Bob Jewell, Managing Partner. "These new partners will strengthen our ability to provide outstanding service to our clients."
TIMOTHY S. McCONN | HOUSTON
Tim represents clients in a wide variety of civil litigation and white collar criminal defense matters in federal and state courts. He has successfully represented both plaintiffs and defendants in large-scale commercial disputes that have included claims of breach of contract, fraud, tortious interference, breach of fiduciary duty, business disparagement and antitrust violations. Tim has also represented clients in matters ranging from oil and gas disputes, adversary proceedings in bankruptcy, wrongful death/product liability matters and investigations related to white-collar criminal activity. His representation of these clients includes handling all aspects of trial and, if necessary, appeal. Tim is a fellow of the Texas Bar Foundation and was named a 2009 Texas Rising Star by Texas Monthly. He received his J.D. in 2001, with honors, from The University of Texas School of Law and his B.A. in 1998, magna cum laude, from the University of Notre Dame.
DENA PALERMO | HOUSTON
Dena's litigation practice focuses on commercial cases and corporate investigations. She has extensive experience representing individuals and corporations in business disputes in state and federal courts. In litigation matters, Dena has successfully handled disputes involving breach of contracts, securities fraud, breach of fiduciary obligations, fraud, medical malpractice, individual and mass toxic torts, real estate and tortious interference. Dena's experience in corporate investigations has included the representation of individuals, corporations and audit committees in investigations and disclosures to the SEC, DOJ and FTC of transactions implicating the Foreign Corrupt Practices Act, Sarbanes-Oxley and the Sherman Act. Dena also counsels U.S. companies with foreign operations regarding compliance with the FCPA. Dena received her J.D. in 1983, magna cum laude, from Boston University, where she was an editor on the Law Review, and her B.S. in 1980 from Binghamton University.
JOSEPH A. PATELLA | NEW YORK
Joe's practice focuses on complex commercial litigation matters at both the trial and appellate levels in federal and state courts and in arbitration proceedings. He has extensive experience in a broad range of commercial disputes, including contract and fiduciary duty claims, deceptive trade practices, shareholder derivative suits, employment/non-compete issues, accountant's liability, computer software implementation, equipment leasing and insurance coverage disputes. Joe has also represented corporations in complex high-exposure class actions in various jurisdictions throughout the country, including recent class action suits filed in Florida, Utah and New York. Joe also represents auction houses, museums and art collectors in fine art and cultural property litigation. Joe received his J.D. in 1996 from Brooklyn Law School where he was President of the Moot Court Honors Society. He received his B.A. in 1993, cum laude, from Fordham University.
HOANG VU | HOUSTON
Hoang practices public law with a focus on public finance. He serves as bond counsel, disclosure counsel, underwriters' counsel and bank's counsel in connection with a broad range of public finance matters for
governmental entities and nonprofit organizations. He has extensive experience working on financings for 501(c)(3) nonprofit organizations and representing banks and other financial institutions on public finance transactions. Hoang received his J.D. in 1999 from the University of Florida Levin College of Law and he received his B.S. and M.S. in 1996 from the University of Florida.
ABOUT ANDREWS KURTH LLP
For more than a century, Andrews Kurth has built its practice on the belief that "straight talk is good business." Real answers, clear vision and mutual respect define the firm's relationships with clients, colleagues, communities and employees. With 400 lawyers and offices in Austin, Beijing, Dallas, Houston, London, New York, The Woodlands and Washington, DC, Andrews Kurth represents a wide array of clients in multiple industries. For more information about Andrews Kurth, please visit andrewskurth.com.
Contacts:
Ashley Ronald Nelly, Andrews Kurth
713.220.4410 (office)
713.204.0255 (mobile)
# # #