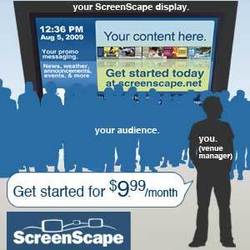 "What ScreenScape is doing is completely unique in the world. While digital signage networks have been around for some time, we are the first to offer a truly community -based approach
Charlottetown, PE  (PRWEB) December 7, 2009
A community-based digital signage network is taking root on Canada's East Coast, reports CTV News Atlantic. The transcript of a recent television news piece airing on the popular news and current affairs program Live at 5 reads: 
An innovative Maritime company is bringing the concept of social networking to the world of advertising. The company allows business customers to create do-it-yourself digital video signs and then links them with other businesses or other community organizations to share each others messages. Watch the news coverage here: http://screenscape.net/ctvnews
As Dan Viau reports, ScreenScape is a do-it-yourself Internet service that helps businesses, even those with little computer expertise, to create sophisticated digital displays that can be published online. ScreenScape gives its members the option of sharing display content with other members of the service. In Charlottetown, Prince Edward Island, where the company was founded, the ScreenScape Community already consists of liquor stores, shopping malls, restaurants, bars, recreational facilities, tourism operations, and store fronts.
"What ScreenScape is doing is completely unique in the world." says ScreenScape founder, Mark Hemphill. "While digital signage networks have been around for some time, we are the first to offer a truly community-based approach. The ScreenScape Community in Charlottetown is an excellent example of how ScreenScape can be used to connect independent sites to encourage cross-marketing and foster collaboration on a regional basis."
After just 9 months in the marketplace, the ScreenScape Community is spreading. ScreenScape now has a presence in more than a dozen countries worldwide.
ScreenScape offers basic memberships, suitable for a small business, at only $9.99 per month. ScreenScape also allows network operators to set up group licenses to create large-scale digital signage networks that span organizational boundaries. A Group License provides the network operator with a centralized means of distributing content to all members within their group on an ongoing basis.  
About CTV's Live at 5
Live at 5 is the Maritime's most popular news and current affairs program. Consistently drawing over 300,000 viewers from Nova Scotia, New Brunswick and Prince Edward Island, Live at 5 holds over 51 per cent of the viewing market unprecedented in any other region of Canada.
For more information visit: http://www.ctv.ca/servlet/ArticleNews/story/CTVNews/20090902/local_ctv_atlantic_20090902
About ScreenScape Networks
ScreenScape is an Internet Service and Community that offers a smarter, simpler and more cost-effective way to use screen displays in your venue. Members of ScreenScape form a community of venues interconnecting to establish a shared resource and marketplace for exchanging content.
ScreenScape Networks Inc.
(902) 368-1975
P.O. Box 291, 133 Queen Street, 3rd Floor, Charlottetown, PE C1A 7K4 Canada
http://screenscape.net
# # #