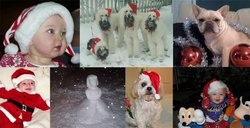 "This is a contest we look forward to all year because we know we'll get some terrific photos & we know our readers enjoy the opportunity to show off their kids and pets decked out in holiday attire."
New Bedford, MA (PRWEB) December 5, 2009
South Coast Media Group and SouthCoastToday.com are now accepting photo submissions for their Holiday Photo Contest. Interested participants are encouraged to create and submit their photos via the contest website: http://www.southcoasttoday.com/holiday-photo-contest.
Last year, more than 80 photos competed for the top prize.
SouthCoastToday.com encourages interested parties to get in on the fun and submit their photos now through December 16th. SouthCoastToday.com is pleased to provide this contest, and is looking forward to interacting with its audience and showcasing their creativity.
"This is a contest we look forward to all year because we know we'll get some terrific photos and we know our readers enjoy the opportunity to show off their kids and pets decked out in holiday attire," said Fred Harwood, managing editor for online content.
Following the open submission period, voting will take place between December 16 and December 23. Contest winners will be chosen by popular vote and judges votes with different prizes for each. Final contest winners will be announced December 24th.
This year, SouthCoastToday will award prizes for four entries: two winners will be selected via popular vote online, two will be selected by consensus of in-house judges.
The prizes will be as follows:
-- 1st Place, overall votes: $75 gift certificate to Not Your Average Joe's restaurant in Dartmouth
-- 1st Place, Judge's Choice: Two tickets to see the Band of the Irish Guards/Royal Regiment of Scotland on Jan. 30 at the Zeiterion Performing Arts Center in New Bedford
-- 2nd Place, overall votes: TGI Friday's gift certificate
-- 2nd Place, Judge's Choice: Texas Roadhouse gift certificate
To enter visit http://www.southcoasttoday.com/holiday-photo-contest.
For other local holiday information visit SouthCoastToday.com's Happy Holidays page.
About Dow Jones Local Media Group
Dow Jones Local Media Group (http://www.dowjones.com/lmg), formerly Ottaway Newspapers, Inc., operates eight community media groups around the country – including the South Coast Media Group – that collectively are comprised of 8 daily and 15 weekly newspapers, several lifestyle magazines and other niche publications, and a multitude of affiliated Web sites in seven states.
Media Contact:
Sean Polay
Product Manager, Distributed Media
774.313.6093
ABOUT DOW JONES
Dow Jones & Company (http://www.dowjones.com) is a News Corporation company (NYSE: NWS, NWS.A; ASX: NWS, NWSLV; http://www.newscorp.com). Dow Jones is a leading provider of global business news and information services. Its Consumer Media Group publishes The Wall Street Journal, Barron's, MarketWatch and the Far Eastern Economic Review. Its Enterprise Media Group includes Dow Jones Newswires, Dow Jones Factiva, Dow Jones Client Solutions, Dow Jones Indexes and Dow Jones Financial Information Services. Dow Jones owns 50% of SmartMoney and 33% of STOXX Ltd. and provides news content to radio stations in the U.S.
# # #