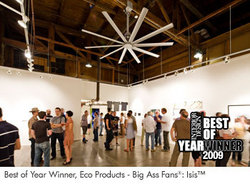 Lexington, KY (Vocus) December 5, 2009
The new Isis fan by Big Ass Fans has been selected as the Interior Design Best of Year: Product Design winner in the Eco Products category.
Award honorees were selected by interior designers and architects via an online vote in October. Isis was chosen as the winner on December 3, 2009 at the Solomon R. Guggenheim Museum in New York City by a jury of leading architects and designers.
The sleek, customizable Isis is available in 8-10 ft diameters and is designed for public and commercial spaces such as retail and office spaces, restaurants and bars, compact fitness centers, and lofts. Isis works in conjunction with HVAC systems to help distribute conditioned air, reduce energy usage and keep occupants comfortable year-round.
This is the preeminent design competition recognizing superior interior design projects and products in over 50 categories. Big Ass Fans is honored to be chosen as the winner for this prestigious design award.
Big Ass Fans designs and engineers contemporary 6- to 24-foot diameter fans for industrial, agricultural and commercial settings. Every Big Ass Fan uses an energy-efficient motor to generate air movement in large spaces, providing occupant comfort and energy savings year round. More than 40,000 Big Ass Fans have been installed worldwide in applications such as industrial plants, dairy barns, hangars, schools, lofts and health clubs. Product solutions include Powerfoil®X™, Pivot™, AirGo™, Element® and Isis™. Big Ass Fans has been featured in Inc. Magazine, Entrepreneur, Fast Company, Popular Mechanics and on television networks such as MSNBC and Discovery Channel. For more information on Big Ass Fans, visit http://www.BigAssFans.com or call 877-244-3267.
About Interior Design Magazine
Interior Design magazine features a broad range of the best commercial and residential installations in the industry and provides aesthetic inspiration, provocative news and analysis and information on the hottest products on the market. The monthly magazine and web site is read regularly by more interior designers than any other design magazine.
Contact:
Laci Poulter
lpoulter (at) bigassfans (dot) com
Direct: (859) 967-0154
###