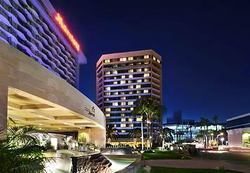 Anaheim, CA (PRWEB) December 6, 2009
For a limited time, one of the Disneyland Anaheim hotels is offering a special package. Guests can experience the magic of Anaheim Marriott with a special Disney package that includes a $100 Disney gift card.
This Anaheim hotel package includes overnight accommodations, self-parking and a $100 Disney gift card. Rates start from $199 per night. The offer is valid through: December 31, 2009. When making an online reservation, one must use the promotional code: THM. If you are calling to make reservations, ask for promotional code THM.
When spending a day at the Disneyland, the $100 gift card will come in handy for food or souvenirs. Who doesn't want to leave the park without a pair of Mickey Mouse ears or a Princess crown? You can use the $100 gift card wherever you want in the park.
For more information about the Disneyland Gift Card or to book a room at the Anaheim Marriott please visit http://www.marriott.com/hotels/travel/laxah-anaheim-marriott
About the Anaheim Marriott
The Anaheim Marriott is an Energy Star Label winning hotel that is conveniently located in the heart of the Anaheim Resort District. This Anaheim hotel near Disneyland Is walking distance to the Disneyland outdoor promenade with restaurants, theaters, and shopping in a tropical setting. Just take a few steps in the other direction and you will arrive at the entertainment and shopping district of the Anaheim Garden Walk, an oasis of outdoor shopping, dining and entertainment in the heart of Orange County. Business travelers will enjoy our Anaheim hotel's convenient location to the Anaheim Convention Center, just steps from our Platinum Ballroom. Our luxury hotel in Anaheim has earned the ENERGY STAR® label from the U.S. Environmental Protection Agency making your stay near Disneyland® Park memorable.
# # #