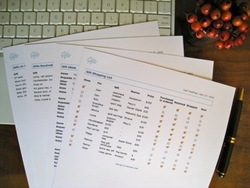 San Francisco, CA (PRWEB) December 8, 2009
Habitudes, the online family organizer, introduces Gifts - web based software that helps shoppers organize, print and store their gift plans "in the cloud." Gifts includes Gift Ideas, a Shopping Checklist, Gifts Received, Gifts on Hand and printable Wish Lists. All can be customized, printed and re-used year to year. Gifts, $20, is delivered online and ready to use immediately upon ordering.
Gifts enables people to:
Share responsibility for shopping, wrapping and mailing: The checklist shows what's left to be done.
Give gifts they'll love: Jot down gift ideas, recipient sizes and preferences like "Grandma likes small purses."
Keep track of the budget: Both spouses can record what they spend, so they can decide whether to splurge on a special gift or "put on the brakes."
Find out what they really want: Print a personalized Wish List for each member of the family.
Shop on the fly: Keep a printout of the Shopping List handy in case there's time and a store nearby.
Avoid re-gifting faux pas: Keep track of Gifts Received. (Don't give the fondue set back to Aunt Julie.)
Remember who gave what: When a friend comes to town, pour his martini from the shaker he gave.
Give the spouse a not-so-subtle hint: Add a wish to Gift Ideas. If she doesn't get the diamond studs for Christmas, they'll still be on the list when her birthday rolls around.
Avoid giving the same thing: Keep track of what was given in the past so he won't get another tie.
Get a head start on ideas for next time: They didn't get everything they asked for? "Gifts" saves ideas for the next time.
Come up with last minute gifts: "Gifts on Hand," keeps an inventory of gifts bought abroad or items to "re-gift." Grab a hostess gift on the way out the door.
About Habitudes
Founded in 2008, Habitudes is an online family organizer that offers a suite of home management software applications called HabiTools. Current titles include Matters of Fact (What the family should know), Emergency Information, Whose Job Is It? (Chore chart), Do Due Done (Chore schedule) and Gifts. Habitudes' free 1 year trial membership includes Do Due Done and secure storage of member data. Individual HabiTools have one-time costs of $15-$30. After the trial, membership is $10 per year for secure data storage.
More Information:
Website: Habitudes.info
Gifts Preview: Gifts
Gifts for Review: Working copies of Habitudes applications are available to the media on request.
Photos: High resolution color photos are available on request.
###