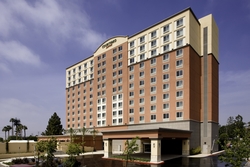 Culver City, CA (PRWEB) December 7, 2009
The Courtyard by Marriott Los Angeles Westside hotel has partnered with The Dinner Detective to provide entertainment at the Culver City hotel on weekends. The hotel near Santa Monica even retrofitted its Westwood Room with upscale lighting and artwork to better accommodate the show.
The Dinner Detective is an award-winning interactive comedic murder mystery dinner show, set in the present day. Unlike other murder mystery dinner shows, here you will find no costumes, no recited dialogue, no song and dance. Performers are dressed just like everyone else, leaving guests to wonder who is part of the show and who is not. In many instances, guests are seated with performers and don't even realize it until the performers die! Detectives proceed to interrogate everyone and find clues as more people die. At the end of the night, a prize is awarded to the Top Sleuth who solves the crime.
Tickets are only $64.95 per person and include appetizers, salad, bread, choice of four entrees, dessert, and coffee. A cash bar is available. For those who opt to stay overnight at the hotel, a special discounted rate is offered. Public shows are usually scheduled on Saturday nights. The Dinner Detective is also available for private shows at the hotel. Reservations can be made online at http://www.thedinnerdetective.com.
Pamela Hirneisen, Director of Sales & Marketing, stated "The show is so well done, and we have received many positive comments from guests. We are very proud to be working with The Dinner Detective."
About Courtyard by Marriott Los Angeles Westside - Located at 6333 Bristol Parkway in Culver City, CA, the hotel near Santa Monica completed a $36 million top-to-bottom renovation in April 2008. Boasting 260 spacious guestrooms and suites in addition to over 10,000 square feet of flexible indoor-outdoor meeting space and a full catering department, the hotel in Culver City is well-equipped to handle groups of 10-300 guests. Corporate and group rates are available. Complimentary amenities for guests include a 24-hour business center, a 24-hour fitness center, an outdoor pool and Jacuzzi, and high speed wired and wireless Internet throughout the hotel. Reservations may be made by calling 1-800-736-0698 or via the Internet at http://www.courtyardlawestside.com. The hotel has been voted the #1 Best Wedding Venue in Los Angeles on MyFoxLA's 2009 Hotlist.
About The Dinner Detective - Since opening in 2004, The Dinner Detective has performed over 650 shows and entertained over 50,000 guests from all over the world. After countless write-ups and rave reviews, they were awarded the coveted 2007 and 2008 Best Dinner Show in Los Angeles and Orange County award by Fox 11 News, Good Morning LA, Good Day LA and CityVoter. With five public show locations running each week and two more coming to Southern California by the end of the year, The Dinner Detective is the largest murder mystery production company on the West Coast.
###