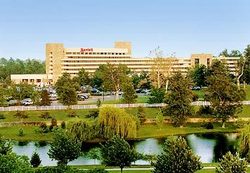 Lexington, KY (PRWEB) December 7, 2009
With the holidays approaching love is in the air, bringing with it the surprise and excitement of wedding engagements. So, with the biggest decision out of the way, there are still numerous smaller decisions to make in the weeks and months to come. The experts at Griffin Gate Marriott Resort & Spa are prepared to help with an array of options that are sure to deliver blissful memories of a splendid wedding celebration.
The Griffin Gate Marriott Hotel in Lexington, Kentucky is known for its exceptional wedding planning services. From the idyllic resort setting to the Certified Wedding Planner who attends to every detail, there's no better place to start the journey of wedded bliss.
This legendary hotel offers guests five distinctive and luxurious locations to be the backdrop to couples' big day. With three indoor and two outdoor wedding venues in Lexington, KY, there's a myriad of wedding venue options at Griffin Gate and they've been built specifically to provide superb settings for unique events.
The Grand Ballroom, The Mansion, and Terrace Ballroom all offer guests indoor spaces for weddings and receptions. The Grand Ballroom boasts exquisite chandeliers, soft wall coverings and luxurious carpets. Accommodating up to 600 guests, and can also be divided into smaller spaces for smaller and more intimate Kentucky wedding receptions. The Mansion in Lexington is a smaller venue that perfectly accommodates smaller receptions and rehearsal dinners. Its historic 19th Century antebellum mansion is highlighted by crystal chandeliers and rare antiques. Lastly, the Terrace Ballroom, which is the newest ballroom at the hotel, seats up to 100 guests and features floor to ceiling windows which overlook the pool and picturesque golf course. French doors open out to the connecting patio, making for a chic location for cocktail hour.
Griffin Gate is also the home to two magnificent outdoor event venues. Bluegrass Pavilion & Patio and Paddock Tent all provide guests with the most memorable Kentucky events, brimming with Southern charm. Bluegrass Patio & Pavilion features a fully climate-controlled venue, accented by French doors and stunning chandeliers. With a great view of the meticulously groomed grounds and golf course, this facility is second to none. Paddock Tent accommodates 500 guests in a spacious, permanents outdoor tent with views of the golf course and pool area, and is a wonderful location for weddings taking place from April to October, as there is currently no climate control available. Whichever couples choose, each venue holds the romanticism of the South and the charm of this classic hotel.
In addition, the Mansion lawn is a wonderful choice for outdoor wedding ceremonies, as the lawn is kept meticulously groomed and features memorable views of the antebellum Mansion and the beautifully landscaped grounds.
A refreshing personal approach to each and every event is only magnified at this remarkable Lexington wedding venue that holds an impressive tradition of excellence. Genteel ambiance in the heart of Kentucky's Bluegrass region sets the stage for weddings and receptions, from smaller, intimate affairs to full-blown social soirees.
With an easily accessible location, only four miles from downtown Lexington, this hotel also offers world-class championship golf and a full-service spa that features seven treatment rooms, full service hair salon and make-up application services, perfectly convenient for wedding day pampering.
At the Spa at Griffin Gate, located in this Kentucky vacation resort, two exceptional wedding packages are offered to ensure brides and those around them look and feel their best for the big day. The Bridal Shower Package features everything for the bride-to-be. Starting with the Signature Facial and Aromatherapy Massage, followed by the Spa Manicure and Pedicure. They finish off the look with a shampoo and style and makeup application..
The Wedding Day Package boasts a selection of little luxuries to help make the day memorable. Unforgettable pre-wedding pampering lets brides indulge in Griffin Gate's Double Happiness Manicure and Pedicure, bridal makeup application and an up-do designed.
Along with the two pampering packages available at this acclaimed Kentucky spa resort, the hotel also offers an array of complimentary services as well as additional inclusions to make each event unique. The complimentary wedding services for the bride and groom include:

Honeymoon room including breakfast the next morning
Bottle of champagne
Valet parking for the bride and groom
The complimentary services at each reception include

Selection of linen and décor
Private dining room with no room rental fee
Exquisitely decorated cake table with cake cutting service
Decorated bars and head table
Hardwood dance floor
Gift Table
Additional services for wedding guests include:

Discounted Kentucky lodging rates for guests, including reservation cards
Amenities delivered to guest's rooms
Valet parking for guests
For more information or to book a wedding or reception at Griffin Gate, call (859) 288-6129 or visit http://griffingatemarriottweddings.com.
About Griffin Gate Marriott Resort and Spa
Peacefully sequestered in the midst of Bluegrass Country, the Griffin Gate Marriott & Spa invites guests to enjoy a luxurious vacation and the finest Southern hospitality. This Lexington, Kentucky hotel has undergone extensive and thoughtful renovations featuring modern, spacious facilities and a beautiful new spa. Featuring some of the finest greens on the magnificent Rees Jones-designed golf course soothing spa treatments, Griffin Gate Marriott offers amenities to spoil and indulge its guests every desire. For more information or to make a reservation call 859-231-5100 or visit http://www.marriott.com/hotels/travel/lexky-griffin-gate-marriott-resort-and-spa/.
###