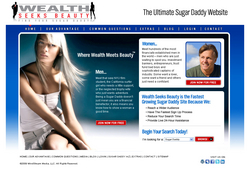 WealthSeeksBeauty.com is the shortest distance between wealthy men and young, beautiful women. Everyone wins
Beverly Hills, CA (PRWEB) December 6, 2009
Amidst a booming economy five years ago, the average American woman never considered Sugar Daddy dating or "arranged relationships." Now, approximately 3,000,000 of them consider it a career – sort of.
Sugar Daddy dating or arrangements consist of a financially established man or a woman who agrees to economically assist a younger partner in return for intimacy and companionship, the details of which are clearly spelled out by both parties.
Mindstream Media, LLC brings Sugar Daddy dating to the next level with WealthSeeksBeauty.com. The site is the fastest growing of its kind and incorporates cutting-edge technology with subtle psychology so as to preserve the human element in the complex male-female dynamic.
"Sugar Daddy dating is still dating and other websites like SeekingArrangement.com concentrate almost exclusively on physical characteristics," said Chloe Livingston, Director of Media Relations for WealthSeeksBeauty.com. "Good looks will only get you in the door, but wealthy men look for specific personality traits in their companions. They want women who are discreet, reliable and passionate. We provide Sugar Daddies and Sugar Babies alike with unique insight into one another. We want people spending time with their perfect playmate, not spending time looking for one."
WealthSeeksBeauty.com features a proprietary 5-Point Personality Profile (5PPP) that consists of five simple, multiple-choice questions. The answers reveal if the Sugar Daddy is a planner or a spender and whether or not his potential Sugar Baby is apt to be possessive or indiscreet.
"The concept of Sugar Daddy dating is based on convenience yet other websites are quick to tell members that it may take months for them to find their perfect companion," Ms. Livingston said. "This contradicts the entire premise. We help our members get to know each other better, faster, cutting down their search time by as much as 75%."
The personality profile is optional (members can join without participating) but it takes less than two minutes to complete and can save Sugar Daddies and Sugar Babies thousands of dollars in bad dates and months of search time. There are no right or wrong answers so members have no motivation to misrepresent themselves.
Sugar Daddy Sites Boom as Celebrity Sex Scandals Increase
Men of means like Tiger Woods, David Lettermen, Kobe Bryant, Elliot Spitzer, Mark Sanford, Hugh Grant and Eddie Murphy all understand the downside of chance sexual encounters. WealthSeeksBeauty.com eliminates such variables for wealthy men as well as everyday business professionals who want their anonymity preserved.
According to Ms. Livingston, "WealthSeeksBeauty.com is the shortest distance between wealthy men and young, beautiful women. Everyone wins"
Chloe Livingston is a nationally-recognized Sugar Daddy dating expert. Ms. Livingston is Director of Media Relations for http://www.WealthSeeksBeauty.com, one of the Internet's fastest growing Sugar Daddy dating websites.
###