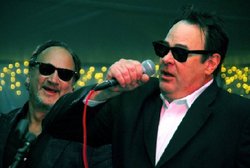 Among this year's special guests scheduled to be on hand are real life "heroes", Lucky Brugola, a Pearl Harbor Survivor. Additionally Medal of Honor recipient, Rodolfo "Rudy" Hernandez who was part of the 187th Airborne from the Korean War will also be o
Los Angeles, CA (PRWEB) December 6, 2009
Volunteer organizations and members of the community, in cooperation with the Greater VA Healthcare System in West Los Angeles, will once again create a holiday party. This year's attendance is expected to soar to more than 5,000 veterans, active military personnel and their families.
WHEN: Sunday, December 6th from 1:00 to 7:30 p.m.
WHERE: 11301 Wilshire Blvd., Los Angeles next to the Jackie Robinson Stadium on the VA Healthcare System's Campus.
Among this year's special guests scheduled to be on hand are real life "heroes", Lucky Brugola, a Pearl Harbor Survivor. Additionally Medal of Honor recipient, Rodolfo "Rudy" Hernandez who was part of the 187th Airborne from the Korean War will also be on hand.
Other guests include the Southern California Patriot Guards, and representatives from San Diego's American Legion and the San Diego's United Veterans Council.
Another special addition to this year's festivities will also include The Legacy of Valor traveling exhibit. The approximate 80 foot long display honors 43 Hispanic Medal of Honor recipients from across the US who have put their lives on the line and went above and beyond the call of duty.
For the first time, the Veterans Holiday Celebration (VHC) has partnered with The Stories of Service and The Spirit of '45. Stories of Service is a non-profit organization that invites young people from across America to capture the stories of the World War II generation and helps seniors submit their memories of August 14, 1945 - the day World War II ended and the rebuilding of the world began.. The goal is to not only preserve history, but to encourage our youth to personally connect with the men and women who lived these stories. National spokeswoman, Edith Shain will be on hand at this year's Veteran's Holiday Celebration. She is also known as the nurse from the famous "kiss" picture from August 14, 1945 published in Life Magazine.
Southwest Airlines has also partnered with the VHC and Stories of Service by donating tickets to bring military personnel "to attend the event and to visit family for the holidays!"
The Veteran's Holiday Celebration is produced solely through the efforts of more than 1,000 volunteers and the cash and product donations received from individuals and local businesses. It is free to all veterans, active service personnel and their families.
The celebration is organized by The Greater Los Angeles community, along with special friends: Men's Division International (MDI), The Family of Women (FOW), and the Greater VA Healthcare System and Volunteer Staff.
The 17th Annual Veteran's Holiday Celebration is the nation's largest volunteer event of its kind.
For more information please visit: http://www.vaevent.org or call 866-955-VETS.
# # #