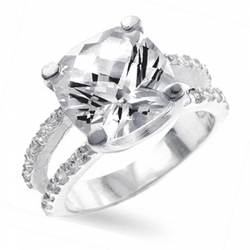 "Women love to be ahead of the curve when it comes to their jewelry, yet they also see the value of classic pieces that'll last for years,"
New York (PRWEB) December 7, 2009
The economic recession has effected all things yuletide this year, which, in turn, has effected the retail climate. This is why Overstock Jeweler has decided to take the opportunity to make sure your gift is sure to put a smile on your loved ones face. They have researched the top ten prefect jewelry gifts this season. In addition to tapping into the desires of style-conscious women and men, they have carefully chosen pieces that are crafted with quality sterling silver and cubic zirconium without the excessive prices.
Early on, CEO, Elena Castaneda, recognized that she had to set Overstock Jeweler apart. "While we've always kicked off the season by promoting the best pieces on our site, we decided to challenge ourselves this time around by creating our list of timeless must-haves," she said. With that in mind, Castaneda and her expert staff have compiled a list of designer inspired jewelry picks that would cater to both the glamour-seeking shoppers and the sentimental gift-givers.
A prime example of this is the romantic choices that they have highlighted, such as their designer inspired antique cushion cut CZ double shank engagement ring. As seen on passionate actress, Eva Longoria Parker, this jewel evokes the beauty of romance that many women look for in life. Another enticing piece that follows the same enchanting mold is the Everlon designer inspired love knot teardrop pendant, which represents everlasting love. Its polished sterling silver and dazzling diamond CZ teardrop will appeal to the woman that is seeking the true love that dreams are made of. Another classic take on the fanciful diamond stud earrings, are the gold vermeil Asscher cut CZ stud earrings a pick that is bound to be a winner when it comes to providing a spectacular gift this Christmas season.
Celebrity stylist, Amanda Sanders, believes that there is timelessness in both classic and trendy jewelry. "Women love to be ahead of the curve when it comes to their jewelry, yet they also see the value of classic pieces that'll last for years," she says. It is with this advice in mind that Overstock Jeweler is presenting the Tiffany inspired sterling silver channel-set round cut CZ tennis bracelet as a holiday must-have for women. After the slim diamond style bracelet skyrocketed in popularity when Chris Evert's broken piece halted her US Open tournament more than two decades ago, it became the staple for all things sophisticated. Keeping in with the classic theme, Overstock Jeweler has also bestowed that honor on their Tiffany inspired Paloma Picasso groove sterling silver cufflinks for the man that views simplicity as one of the luxuries of life. What's more, they capture the bold magnetism that is effortless in a man – something that can also be applied to the Tiffany inspired 10mm sterling silver bead bracelet. Ever since Hollywood starlet, Lindsay Lohan, wore the piece at a fashion show last year, its popularity has increased tenfold as a future classic piece that will be appealing to both classic jewelry lovers and trendy trinket fans.
In addition to giving prominence to the classics, Overstock Jeweler has also featured the trendy pieces as the gets of the holiday season. Whether people are shopping for Upper East Siders like Blair Waldorf who would appreciate an Inspired by Tiffany 14K gold vermeil pave CZ crown key pendant or the Tiffany inspired pave diamond CZ Fleur De Lis key pendant, they represent the elite fashions without the privileged price tag. Overstock Jeweler's expert jewelry staff has also voted in the Tiffany inspired sterling silver heavy mesh ring and the Tiffany inspired sterling silver coin edge dog tag pendant as pieces that make a lasting impression on the most stylish of gentleman this season. The sizzling designer inspired stainless steel pave crystal watch is another example of achieving style and grace without the heavyweight price tag during the holidays. It is the combination of elegance and trendiness that ultimately make Overstock Jeweler's Top Ten Timeless picks a valued source for holiday stocking stuffers this year.
Contact Information
Administrator
Overstock Jeweler
http://www.overstockjeweler.com
1-800-586-0020
###