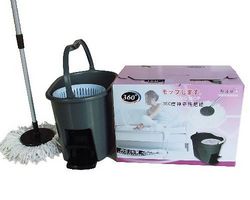 Magical Mop can simply wring the mop out without effort.
Albany, NY (PRWEB) December 11, 2009
The longer a company has been in the business, the more time it gains experiences for a good reputation, grows and becomes more innovative. In the end of 2009, Kuyei Enterprise Co., Ltd. brought a new product to market - magical mop. With its unique 360 degree swivel function, the magical mop can even clean the reachless corners. And it can clean cars, windows, floors, and dust. The most convenient thing is that users don't have to wring the mop out by hands, just tread the treadle on the bucket. A good helper with housework!
Kuyei Enterprise Co., Ltd. has more than 30 years of experiences in aluminum/zinc alloy die casting in Taiwan and Vietnam. Mainly manufactures and exports assorted aluminum/zinc alloy/ stainless steel kitchenware, including ice cream scoops, measuring scoops, meat tenderizers, garlic presses, press/cracker, magical mop, aluminum chair bases, etc. Especially aluminum ice cream scoops, measuring scoops and meat tenderizers are the best sale. There are many kinds of surface treatments that Kuyei can do, such as polish, ready to paint, sandblasted, teflon, etc.
Kuyei presents products with the highest quality and the best service with the lowest possible prices worldwide. Kuyei website: http://www.kuyei.com.tw/
Published by Topenga Lin
###