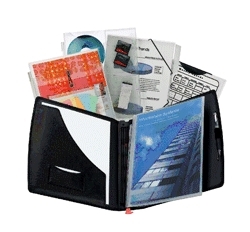 "I.Organize is better than traditional filing tools because it prevents the need to punch holes in your paperwork while projecting a professional image.
Melville, NY (PRWEB) December 7, 2009
The Pendaflex I.Organize is the professional choice for organization and management of your project and task documents (& materials). I.Organize is a customizable and active organization system that saves time and enhances productivity by allowing you to quickly access, categorize and securely store your most important project papers, whether you are in the office or on-the-go.
The information management system's patent pending technology, developed specifically through observation research of mobile workers on the road, consists of a binder and easily interchangeable filing tools that combine together utilizing a unique locking mechanism which ensures that documents remain safe and secure.
I.Organize offers a variety of filing tools designed to match your non-digital document management style. Each lightweight tool can be quickly and easily removed from the binder and rearranged so you can organize or prioritize your project work as needed with clear structure in a clear physical appearance. I.Organize provides flexibility and customization by accommodating various types and sizes of information, materials and media.
According to Tim Inall, Director Business Development, "I.Organize is better than traditional filing tools because it prevents the need to punch holes in your paperwork while projecting a professional image. It is durable and offers extra security; and is safer than traditional three ring binders as there are no dangerous rings to bite your fingers."
You can select from eight active filing accessories to add to your I.Organize: (1) Twin Pocket Folder, (2) Clipboard, (3) Envelope, (4) Secure File Folder, (5) Display Book; (6) Media File; (7) Wave Pocket and (8), Project Divider. Since they are sold separately you can select which ever tool suits your filing and organizational style, in the multiples you require.
There are two binders to choose from. The Presentation Binder comes with 4 channel capacity in a leatherette finish, it is slim enough to fit in your briefcase to use on the go. The Storage Binder comes with 8 channel capacity, in a durable poly finish. Designed for your workstation, you can take out the filing tools from the binder to go to your meetings, or for storage of multiple documents.
To see more visit http://www.pendaflex.com and see how I.Organize can help simplify the
non-digital clutter in your life.
In the US available now through Amazon.com and Office Depot
In Canada available now through Staples, Grand & Toy, Lyreco, and Novexco
Coming soon to your local office supply dealer.
About Esselte Corporation. Esselte Corporation is the North American business of the Esselte Group, one of the world's premier manufacturers of organizational solutions. The Esselte Group is a $1 billion office products company with subsidiaries in 31 countries and distribution in more than 120 countries. Esselte Corporation's products are sold in North America under the Pendaflex®, Oxford® and Leitz® brands.
###