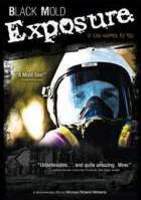 You're going to want to watch this one. -Film Threat
Dallas, TX (PRWEB) December 10, 2009
Looking Glass Entertainment Co. releases the toxic mold and multiple chemical sensitivity (MCS) documentary Black Mold Exposure to DVD. The company has partnered with Fortune Denim, Needs, the National Geographic Store, and several other companies to offer nine bonus gifts to customers purchasing the DVD from the documentary's official website at http://www.blackmoldexposuremovie.com. The DVD will be available at 20% off retail if purchased from the website.
Complimentary copies of the DVD are available with participation and purchase of other special offers on the website including, Gevalia Coffee, Blockbuster Video, mold test kits for the home from NORMI, and others.
The documentary was released to a limited theatrical release this past spring and summer, and the company plans to continue screening the film through independent and licensed screenings.
SYNOPSIS
Imagine becoming so sensitive to almost everything you're exposed to daily like common chemicals, furniture, foods, and pollen that it makes you so ill you can't function. You must isolate yourself from others. You become unable to work, the doctors don't believe you, and neither does your family. You're mocked and you struggle daily to maintain your surroundings and health.
Watch this entertaining and shocking film as filmmaker Michael Roland Williams chronicles the agonizing struggle of those who have endured after being exposed to toxic mold. Most are still overwhelmed with debilitating symptoms years after exposure, while doctors, lawmakers, and attorneys take sides and dismiss their claims.
One of the primary participants in the documentary is designer Karen Noseff of Fortune Denim. She was ill and struggled to survive for years prior to launching Fortune Denim. Karen Noseff has been featured in national radio, television, and magazines, and has received numerous awards since achieving wellness and launching her denim line. http://www.fortunedenim.com
Karen Noseff is about to release her music album in January. http://www.karennoseff.com
Black Mold Exposure will be available for sell-through pricing on Single Disc format for $24.95 SRP
DVD ELEMENTS
-Theatrical Cut
EXTRAS
-Director's commentary with cast updates
-Theatrical trailer
BASICS
PRODUCT SRP
Single disc Amaray $24.95
Street Date: December 11, 2009
Languages: English
Running Time: 101 minutes
Rating: Rated PG for thematic elements, brief mild language, and incidental smoking.
###