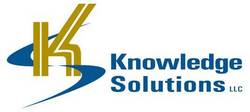 New York, NY (PRWEB) December 8, 2009 -–
Knowledge Solutions, LLC, a leading provider of Business Intelligence solutions and Lawson ERP services, today announced that it has completed Phase II of a Revenue Cycle Management Solution for Continuum Health Partners (CHP). CHP is a nonprofit hospital system in New York City that comprises historically distinguished hospitals: Beth Israel Medical Center, St. Luke's – Roosevelt Hospital Centers, and Long Island College Hospital. Together, CHP offers a full range of primary care and specialty treatments using the most advanced approaches available in the New York City metropolitan area.
During Phase I, Knowledge Solutions conducted a high-level operational baseline of existing policies, processes, systems and analytics across the revenue cycle to determine the impact on the overall information management strategy. "Our partnership with Knowledge Solutions has resulted in a product that is more than the sum of its parts. We have been able to achieve dramatic workflow and analysis improvements in short windows since the initial rollout this past summer," said Joseph Mann, Assistant Vice President of Revenue Control and Integration.
The Phase II solution included the development of the company's Revenue Cycle Management Data Mart that includes a claims workflow manager, a custom analytic tool. "Our team holds a diverse portfolio of experience in the many disparate aspects of Healthcare processes and IT," said John Vizzotti, vice president of Knowledge Solutions. "With our strong core knowledge in database technologies, business processes, information management, and end-user applications, we will enable CHP to focus on their core strength while we continue to lower the total cost and complexity of their solutions."
Mann remarked, "The analysis tool is a highly customized product that required quick development to market timelines. We are now in a position to drive further results as we continue to make enhancements and corresponding workflow improvements. I have been in many situations requiring on your feet and quick to market product development as part of operational and process improvement strategy. I am glad to have Knowledge Solutions on my team as we continue our drive into the future."
Additional phases are underway and include new functionality for the Data Mart and additional Business Process Analysis.
"Our solutions start with our business process management consultants collaborating with clients to ensure that their organization's business processes positively impact critical business drivers," said Ron Parks, president of Knowledge Solutions. "Our goal is to reduce the overall complexity of Healthcare's information technology and make a positive contribution to their bottom line." Parks added, "In today's challenging healthcare environment, hospitals need efficient solutions that help streamline their business operations and increase efficiency to provide the best patient care possible."
About Continuum Health Partners:
Through five of the most respected hospitals in the city, Continuum Health Partners plays a vital and vibrant role in the lives of millions of New Yorkers. The hospitals have nearly 3,100 beds, operate with a budget of over $2 billion, and employ over 15,000 employees, of whom more than 4,000 are nurses.
Since 1997, the mission of Continuum Health Partners has been to provide the city with a healthcare network that brings together outstanding clinical resources, reinforces strong service traditions, and attracts world-renowned physicians -- all while ensuring the highest quality of care for patients.
About Knowledge Solutions, LLC:
Knowledge Solutions is a leading provider of information management services delivering strategic solutions that address the complex business needs of its clients. With focus on integrating technology, business processes and policies, Knowledge Solutions delivers business-driven and user-centric capabilities that add continuous and measurable value. Core Services include business intelligence, ERP planning, implementation and support, and Complete IT. For additional information visit the company's website at http://www.ksols.com.
# # #