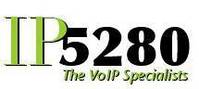 We're pleased to be recognized by the team at Franklin Court Partners for our 2009 revenue growth, undoubtedly a tough year for any business
Englewood, CO (Vocus) December 7, 2009
IP5280 Communications, which specializes in business VoIP and data communications through state-of-the-art unified Internet Protocol technologies, announced today that the company's 2009 revenues will grow 40% over last year, a result that gained recognition from Franklin Court Partners as one of the fastest-growing companies in the IP Communications sector nationwide. Additionally, IP5280 will realize 55% annual growth in monthly recurring revenue with continued positive cash flow.
Franklin Court Partners LLC, a Denver based consulting firm that advises many of the leading IP services and equipment companies throughout the country, maintains an extensive proprietary database which closely tracks well over 100 telecom and technology providers across North America. Based upon Franklin Court Partner's findings, as well as discussions with key service equipment vendors, IP5280 has outpaced the market by at least twice the average revenue growth rate, the consulting firm reported.
"2009 will go down in business history as one of the toughest economies in decades, where maintaining flat revenue can be considered an accomplishment for many telecom and technology providers. It has been said that 'flat is the new growth'," said Scott C. Chandler, Managing Partner of Franklin Court Partners. "IP5280's performance in 2009 is truly remarkable. Their revenue growth rate for 2009 is the highest of any business IP voice service provider that we have seen this year."
IP5280 attributes much of their success to an acute focus on providing carrier-class VoIP calling packages and data solutions to businesses that includes Hosted VoIP and IP Business Trunking services. Advanced features include the delivery of IP5280's High Definition Voice technology that provides unmatched call quality as compared to traditional phone services, as well as a suite of unified communication features such as sending voicemail to an email inbox, voice-to-text transcription service and integration with Microsoft's Outlook email.
Chandler also stated, "The revenue growth in 2009 is even more impressive when you understand that all of IP5280's growth was organic and not a function of 'buying' revenues as part of merger and acquisition activities. IP5280 has created a strong brand name, product set and customer base, and has laid a strong foundation for continued growth."
"We're pleased to be recognized by the team at Franklin Court Partners for our 2009 revenue growth, undoubtedly a tough year for any business," said Jim King, Chief Financial Officer of IP5280. "Providing an alternative to the old phone companies that save businesses money makes today's telecommunications industry an exciting space. We remain committed to delivering business-class IP services to the small business market with unmatched customer service."
About IP5280
IP5280 Communications is a privately held next-generation global unified IP communications provider specializing in VoIP and converged IP voice and data services for business customers. Trusted by thousands of business enterprise users, communication agents, partners and wholesalers of IP managed services throughout the world, IP5280 solutions offer carrier-class communications for businesses large and small, with significant savings over traditional phone company business services.
Selected by ColoradoBiz magazine among the Top 3 Best Companies to Work For in Colorado, and proudly ranked by the magazine as a part of the elite Colorado TOP250 Private Companies, IP5280 provides businesses the most advanced IP solutions to meet a variety of voice, data and IP networking needs. Visit http://www.IP5280.com or call (303) 800-0000.
Media contact: Jeff Rundles, The Unleaded Group for IP5280, 303-952-2565.
###