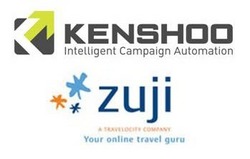 KENSHOO Search was the only platform that could solve all of our problems and offered the most upside for ROI maximization.
(PRWEB) December 8, 2009
Zuji.com, the number one online travel agency in Asia and Oceania, has announced that it has chosen KENSHOO™ Search as their search engine marketing technology platform. KENSHOO Search is an end-to-end SEM management and optimization platform that offers market leading scalability and automation capabilities.
"After reviewing the field KENSHOO Search was the only platform that could solve all of our problems and offered the most upside for ROI maximization. Not only did Kenshoo cover the basics but they offered more advanced features like tracking integration and conversion attribution. We can now automate the targeting of different regions based on the deals and inventory that we have available, including placing pricing and promotion text into our ads. We are very excited to get started on KENSHOO Search." – Adam Sullivan, Head Digital Marketing, Asia Pacific at Zuji.com
Zuji.com is the award winning online travel agency that offers online booking and reservation services for airline tickets, hotels, cars, packages, insurance and travel activities. Zuji.com was looking for an SEM platform that would help them better reach their multinational customers. KENSHOO Search provided the most robust platform that supported multiple languages and currencies while giving the Zuji.com online marketing team the abilities to manage and automate region specific campaigns. Using the RealTime technology built into KENSHOO Search. Zuji.com will be able to directly link their inventory into their search marketing campaigns with automated targeted for different regions.
"We are proud to add Zuji.com to our customer portfolio, they are great brand name and their award winning service speaks for itself. Zuji.com faces a lot of complex issues with their SEM campaigns due to rapid changing nature of the travel market and their international portfolio of website. We plan to help them gain control of their SEM management and then optimize through intelligent automation to expand their reach and increase ROI." – Andrey Shirben, Kenshoo Partner and Head of APAC Region.
Zuji.com will work with Beyond Media Global, a Kenshoo Regional Partner, to service and support their search marketing program as it grows and expands. Headquartered in Hong Kong, Beyond Media Global provides businesses with internet marketing strategy and services with a focus in Greater China and Asia Pacific.
About Kenshoo
Kenshoo (http://www.kenshoo.com) is the provider of KENSHOO™ Search, the end-to-end search marketing platform that boasts industry depth of features, scalability, and automation technology . Built utilizing the Quality Management™ approach, KENSHOO Search enables marketers to optimize every aspect of their campaigns to achieve maximum ROI. Kenshoo's automation and optimization technology is being used today by ad agencies and advertisers on five continents and in dozens of languages such as KENSHOO Omnicom, Zappos, Hitwise, TextBooks.com, iREP, LinkShare, and PetCo. Kenshoo is backed by venture capital firms Sequoia Capital and Arts Alliance.
About Zuji.com
Located throughout Asia Pacific, ZUJI has a network of online travel sites in Australia, New Zealand, Hong Kong, India, Korea and Singapore. ZUJI is part of the Travelocity family of companies globally, and owned by Sabre Holdings, a world leader in travel commerce. Travelocity is committed to being the traveler's champion -- before, during and after the trip - and provides the most comprehensive and proactive guarantee in the industry. This customer-driven focus, backed by 24/7 live phone support, competitive prices and powerful shopping technology has made Travelocity one of the largest travel companies in the world with annual gross bookings of more than U.S. $10 billion. Travelocity also owns and operates: Travelocity Business for corporate travel; igougo.com, a leading online travel community; lastminute.com, a leader in European online travel; and ZUJI, a leader in Asia-Pacific online travel.
###