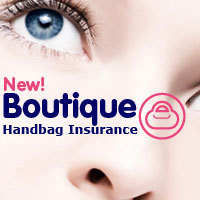 "We understand that British women use a variety of different bags, depending on their daily needs" says James York, co-founder of insurance4everyone
(PRWeb UK) December 8, 2009
Boutique Handbag Insurance has arrived; allowing savvy British women over 21 years old to protect their bag and its contents against theft, loss or damage from just £5 per month. Getting that stylish look can take up lots of time and money, thankfully insuring it doesn't.
Online shop insurance4everyone has announced that the product is to go on sale with immediate effect. Unlike other handbag insurance products, Boutique covers 'any bag' - the handbag you are carrying at the time of the loss, rather than a specific pre-notified bag. This makes Boutique a practical and affordable way for women to protect their prize possessions.
Many women will admit to carrying their life in their handbag. It is distressing enough if this is lost or stolen, but it is often on replacing the bag and its contents that the true value is revealed - and it can be a shock. With a purse, mobile phone, digital music player and cosmetics your handbag's loss can prove costly to replace. 'Boutique' gives women the peace of mind that, when the worst happens, they are protected.
"We understand that women use a variety of different bags, depending on their daily needs," says James York, co-founder of insurance4everyone.co.uk. "Boutique is designed to cover any one bag the policyholder uses at a time; it's simple, quick to buy and flexible. We know that these bags can cost a lot and they're packed with cosmetics and gadgets which modern British women can't live without. We're here to cover against the worse case scenarios."
Boutique provides market-leading cover for both the handbag and those high value items inside. Alongside this wide-ranging cover, it also provides 60 days worldwide cover at no extra cost. 'Boutique' can be purchased in minutes online at insurance4everyone.co.uk. Product documentation is emailed to the shopper straight away after purchase, making it quick and easy to arrange cover.
"Boutique is a cheaper and more flexible option to the alternative of naming or adding items to 'all risk' cover on existing home insurance, which can substantially increase the premium and often requires a detailed list of the items to be covered," explains Geoff Hall at insurance4everyone.co.uk.
Boutique has two optional levels of cover, £800 or £1,000. Additional cover is also available for Mobile Phones, Money and credit cards. Cover can be purchased online quickly and easily at http://www.insurance4everyone.co.uk.
For further press enquiries, contact James York at james(at)insurance4everyone(dot)co(dot)uk
Notes for editors:

Available for applicants over the age of 21 years.
Terms apply, see website for details.
Insurance4everyone.co.uk is the UK's vibrant and friendly insurance retailer, with 0% gimmicks. We provide fast online quotes and stock affordable insurance products from an independent and trustworthy source.
Insurance4everyone has chosen Berkeley Alexander Ltd, part of one of the UK's largest insurance brokers to provide these insurance quotations. The Wonderful Web Ltd trading as 'insurance4everyone' is an Appointed Representative of Berkeley Alexander Ltd who are authorised and regulated by the FSA no 307388
Other insurance products we stock and make available online include; home insurance, unemployment insurance, identity theft insurance and buy to let insurance.
Find out more at http://www.insurance4everyone.co.uk
Clients should read the terms and conditions of the insurance contract carefully before buying, including the processes and requirements for claims.
Affiliate opportunities available for both online and high street retail, enquiries welcome.
###