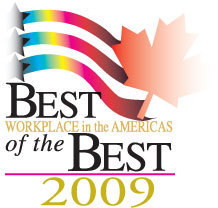 "Best of the Best winners routinely exhibit the highest commitment to success in many ways, but particularly through their employees. Congratulations to Label World."
Rochester, N.Y. (PRWEB) December 8, 2009
Label World of Rochester, NY has been awarded the Best Workplace in the Americas designation, Best of the Best 2009, for their exemplary human resources practices. Begun to specifically honor printing companies that provide a superior work environment, this year marks the tenth year of the Best Workplace in the Americas program.
A panel of highly respected HR professionals with decades of experience in the graphic arts industry reviewed the submissions. All of the winning companies actively show their employees that they care about their work environment, their personal goals and ambitions, as well as the needs of the company. Applicants were judged on eight criteria: Management Practices; Work Environment; Training and Development Opportunities; Financial Security; Workplace Health and Safety; Work-Life Balance; Recognition and Rewards; and Health and Wellness Programs.
"Once again, we are delighted with the Best of the Best Workplace in America award from PIA," says John McDermott, President and CEO of Label World. "We have now won the Best of the Best Award five years in a row, and eight out of the past nine years. Our associates remain the foundation for our continued growth and success, especially during challenging economic times. This award honors them all."
Michael Makin, president and CEO of Printing Industries of America , agrees. "Best of the Best winners routinely exhibit the highest commitment to success in many ways, but particularly through their employees. Congratulations to Label World."
About Printing Industries of America: Printing Industries of America is the world's largest graphic arts trade association, representing an industry with approximately one million employees. It serves the interests of more than 10,000 member companies. Together with its nationwide affiliate network, Printing Industries delivers products and services that enhance the growth, efficiency, and profitability of its members and the graphic communications industry through advocacy, education, research, and technical information.
For more information about the Best Workplace in the Americas Awards, contact Jim Kyger at 202-730-7968.
For more information about Label World go to http://www.labelworldusa.com or contact Rich Battoglia at:
Label World
29 Jet View Drive
Rochester, NY 14624
585-235-0200 X102
###