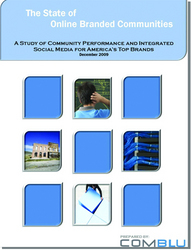 "This study is a thoughtful, timely and practically relevant way to assess brand community performance."
Chicago, IL (PRWEB) December 7, 2009
A new study of 135 online communities for 45 major brands found that only 36% are leveraging a majority of the community best practices for customer engagement.
The research was conducted by ComBlu, a Chicago-based marketing organization specializing in creating community-based word of mouth programs. Its purpose was to closely examine and quantify the effectiveness of these communities in providing meaningful customer experiences and integrating brand strategies across multiple social media channels.
"This study is a thoughtful, timely and practically relevant way to assess brand community performance," said Walter J. Carl, PhD, Founder and Chief Research Officer at ChatThreads, an independent word of mouth marketing and analytics company. "The research algorithm used is based on a systematic and defensible methodology gleaned from years of experience developing brand community best practices. The audit is clearly conceived and lays out actionable steps brands can take to improve their community practices and ultimately their relationships with consumers. Brands may not like to hear the results from this audit, but it is news they need to hear."
Other key findings in the ComBlu study included:

Nearly half of the brands (47%) are still in the experimental phase, while only 20% showed a cohesive, integrated approach to their community and social media programs.
Only 36% of the communities had high levels of activity.
For most brands, community and social media were separate initiatives; only 32% of the 135 communities were integrated with social media.
The study's four high performers – YouTube, Sony, AT&T and Sears – on average used 17 of the 23 best practices being evaluated.
Little evidence was seen to indicate that brands had any kind of strategy for leveraging the feedback, ideas, and insights they gained from communities.
"It's clear that brand teams are not consistently deploying best practices across the brand's ecosystem," said Kathy Baughman, a principal at ComBlu. "While some individual communities are doing amazing things, others within the same 'mother brand' apparently are not taking advantage of their experiences and insights. All brands in the study could have benefited by adopting a more systematic and strategic approach to community building, which would enable them to create closer and deeper relationships with their customers."
This research was conducted in the spring and summer of 2009 and included companies from nine industries. As part of this analysis, the ComBlu researchers joined many of the communities being evaluated. Download "The State of Online Branded Community" white paper.
About ComBlu:
Founded in 2003, ComBlu is a marketing organization formed to forward thought leadership on customer evangelism and to work with companies to develop word of mouth marketing programs and integrated best customer strategies. ComBlu offers market-tested methodologies to help clients identify their customer evangelists, activate them as a WOM and feedback channel and measure the impact of the resulting WOM programs. ComBlu has built and manages 26 communities in 20 languages with over 8 million members worldwide. The company is located in Chicago, Ill.
###