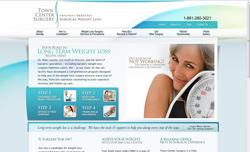 Valencia, CA (Vocus) December 8, 2009
Obesity, characterized as being more than 50 pounds overweight, affects more than three million Americans. The disease can lead to life-threatening conditions including high blood pressure, stroke, diabetes, and heart disease, as well as debilitating psychological and emotional effects such as severe depression. Dr. Marc Lussier is the medical director of Town Center Surgery. Primarily a plastic surgery practice, Dr. Lussier has now opened a new center offering bariatric surgery in Valencia, California for patients to lose weight safely and effectively through surgical means. Along with the new center, Dr. Lussier is launching a new website letting prospective patients know how weight loss surgery can help them, as well as educating visitors on the comprehensive programs available at the practice.
Town Center Surgery's new site, developed with medical website design firm Rosemont Media®, is equipped with some of the latest tools of the internet to give visitors detailed information as to the programs available from the practice. The site offers expansive descriptions of weight loss surgery procedures offered, including REALIZE® Band and LAP-BAND® System surgery in Valencia, California. Plus, the new website allows patients to determine their body mass index almost instantaneously with an online BMI calculator. A patient's body mass index is one of the leading indicators as to whether they are suffering from obesity. The site also includes web video documentaries detailing the processes involved in various bariatric surgery procedures.
In addition to the innovative and interactive tools available on Town Center Surgery's new website, visitors can read detailed biographies of Dr. Lussier and Valencia, California bariatric weight loss surgeon Matthew Lublin, MD. The practice has also made it easy for web visitors to access its Facebook page, where they can get more information, offer feedback, and connect with others who may share their experiences with weight problems and surgical treatment for obesity. The site also gives an informative overview of Town Center Surgery's aftercare programs, support groups, and what patients can expect before, during, and after surgery.
Overall, doctors with Town Center Surgery hope that the new website serves as a useful reference for patients who are looking to lose weight and reduce serious risks to their health, letting them know that there is proven, effective treatment that can help them live healthier lifestyles with slimmer physiques.
About Town Center Surgery
Town Center Surgery is a plastic surgery and bariatric surgery practice serving the communities of Santa Clarita, Valencia, Palmdale, Lancaster, Antelope Valley, and surrounding areas in Southern California. The practice has a fully equipped surgical facility that has been certified by the Accreditation Association for Ambulatory Health Care (AAAHC). Under the direction of board-certified plastic surgeon Marc Lussier, MD, Town Center Surgery offers surgical weight loss treatment in addition to a range of plastic and cosmetic surgery procedures. The practice's weight loss surgery center includes bariatric surgeon Matthew Lublin, MD and registered nurses as part of a comprehensive program designed to help patients through every step of the weight loss process.
For more information on Town Center Surgery and the procedures it offers to help fight morbid obesity, the practice can be reached at 24510 Town Center Drive, Suite 180, Valencia, CA 91355 – (661) 260-3021. http://www.towncentersurgeryweightloss.com.
###