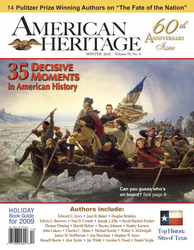 "The historic 60th edition of the magazine looks terrific... You have produced an instant classic and I know it will generate great interest in the country." —Brent Glass,Director, Smithsonian National Museum of American History
Rockville, MD (PRWEB) December 9, 2009
The 60th Anniversary issue of American Heritage is arriving on newsstands starting December 8. For this much-anticipated issue, the magazine's editors asked 36 leading historians including 14 winners of the Pulitzer Prize to write on decisive moments in American history.
"It's an editor's dream to publish an issue like this," said Edwin S. Grosvenor, President and Editor-in-Chief of American Heritage Publishing. "When we stepped in to save American Heritage two years ago, we hoped to take the magazine back to creating this level of writing. We're pleased that so many prominent historians offered to participate."
"You have produced an instant classic," wrote in Brent Glass, Director of the Smithsonian's National Museum of American History. "I know it will generate great interest."
Authors in the 60th Anniversary issue include historians James McPherson, Joe Ellis, Jon Meacham, Douglas Brinkley, and Jay Winik (a complete list of authors and articles is attached.)
"Never have so many brilliant writers written such succinct gems about so many crucial moments in our past," says Harold Holzer, author of 33 books on Abraham Lincoln. This issue of American Heritage "builds on its exemplary tradition of reporting and interpreting history at the highest level of quality."
In May, 2007, it looked like American Heritage would not survive. Its former owner, Forbes, Inc., announced in The New York Times that the magazine had suspended publication, but the company was purchased by a group of Washington, DC-area history buffs and the magazine relaunched. The Forbes family continue to be partners in the new company.
"It wasn't the best time to buy a publishing company," Mr. Grosvenor observed recently. "But by cutting expenses and putting out a product people want, we have reached a breakeven point."
Advertising revenue for American Heritage is up a record 116% in 2009, bucking trends in the publishing industry, says Mr. Grosvenor, and newsstand sales have tripled. As with most magazines this year, circulation has dropped somewhat, but revenue per subscription has improved significantly, Mr. Grosvenor reports.
Noted historian Bernard Weisberger, who wrote his first article for American Heritage in 1957, looked back over its history in the introduction that he wrote for this issue. "Almost every well-known and respected historian of the United States appeared in the pages of American Heritage over the years," he observed. "The tradition continues with the list of authors in the 60th Anniversary issue—distinguished professors, curators, educational administrators and journalists."
To illustrate the cover of the 60th Anniversary issue, American Heritage's editors commissioned artist Ron Wood to make a few changes in a copy of the famous painting of George Washington Crossing the Delaware by Emanuel Leutze.
Now, Gen. Washington is joined by Abraham Lincoln, Alfred Einstein, Mark Twain, and Harriett Tubman, while Martin Luther King, Jr. leads the American boat through icy waters.
"We gathered hundreds of portraits of famous Americans and worked closely with the artist to reinterpret George Washington Crossing the Delaware," says John F. Ross, Executive Editor of American Heritage. "The cover is a visual metaphor for what we wanted to do with the issue, to invite readers to take a closer look at history. It will surprise you."
Comments about American Heritage and the 60th Anniversary Issue:
"American Heritage's 60th Anniversary issue is a cause for celebrations by historians and lovers of history from Boston to Seattle. It is proof that this great magazine has been rescued from oblivion and restored to vivid meaningful life. Publisher and Editor-in-Chief Edwin Grosvenor, Executive Editor John Ross and their talented staff deserve our unstinting thanks for this achievement."
—Thomas Fleming, past president of the Society of American Historians
"The historic 60th edition of the magazine looks terrific and I have already read several entries. You have produced an instant classic and I know it will generate great interest in the country."
—Brent Glass, Director, Smithsonian National Museum of American History
"With its 60th anniversary issue, American Heritage Magazine not only builds on its exemplary tradition of reporting and interpreting history at the highest level of quality—it makes history of its own as well. The diamond jubilee issue belongs in the hands of every lover of history, and in the library of every collection where history is cherished and passed on to new generations. Never have so many brilliant writers written such succinct gems about so many crucial moments in our past.
—Harold Holzer, author of 33 books, Chairman of the Lincoln Bicentennial Committee and Senior Vice President, External Affairs, The Metropolitan Museum of Art
About American Heritage:
American Heritage Magazine is the oldest and most respected popular history magazine in America, carrying forward the mission its founders spelled out 60 years ago: "We believe in good storytelling; that interesting writers can interpret history and restore it to the place it once occupied as the noblest branch of literature."
American Heritage was launched in December, 1949, by the American Association for State and Local History and a few years later sold to a group of staffers from Time-Life. Under the leadership of editor Bruce Catton, who had just won the Pulitzer Prize for A Stillness at Appomattox, the founders believed that the American story was one of endless fascination and sought to apply the techniques of journalism to the discipline of history. Over the years American Heritage has won many honors, including the National Magazine Award.
It suspended publication in May, 2007. The assets of American Heritage, Inc. were purchased several months later by a new company, American Heritage Publishing, lead by Chairman Robert Breeden and President and CEO Edwin S. Grosvenor. Mr. Breeden was the Executive Vice President of the National Geographic Society, where he launched National Geographic Traveler and ran the book and educational media divisions. Mr. Breeden was also Chairman and President of the White House Historical Society and Capitol Historical Society.
Other directors of the company include Bruce Cole, former Chairman of the National Humanities Council; Scott Masterson, Senior Vice President and General Manager of Forbes, Inc.; Allen Weinstein, former head of the U.S. National Archives, and Robert Wilburn, former president of both Gettysburg Foundation and Colonial Williamsburg Foundation.
For more information, please contact:
Melissa Hunsiker at 240-453-0900 ex 12
email: mhunsiker (at) americanheritage (dot) com
AMERICAN HERITAGE'S 60TH ANNIVERSARY ISSUE
THE FATE OF THE NATION: 35 Decisive Moments in US History
INTRODUCTION: Bernard Weisberger
COLONIAL
Epidemic of 1617 Empties New England: Charles C. Mann
Spanish Destroy Fort Caroline: Andrés Résendez
Jamestown Survives: James Horn
British Take Manhattan: Russell Shorto
Pontiac's Rebellion: Alan Taylor
THE FOUNDING
"The Sparck of Rebellion"- Boston Tea Party and Lexington: Douglas Brinkley
Washington Wins the Battles of Trenton and Princeton: David Hackett Fischer
Will a "United States" Happen?: Tom Fleming
Madison Hijacks the Constitutional Convention: Joseph J. Ellis
John Adams Names John Marshall as Chief Justice: Gordon S. Wood
THE EARLY REPUBLIC
Erie Canal: Edwin Burrows
Andrew Jackson Battles South Carolina's Nullification: jon Meacham
Morse Invents the Telegraph: Daniel Walker Howe
Polk Adds Texas, California and Oregon to the US: Robert Merry
Edwin Drake Discovers Oil at Titusville: Daniel Yergin
CIVIL WAR
Lincoln's Cooper Union Speech: Harold Holzer
Lincoln Decides about Ft. Sumter: James M. McPherson
Monitor vs. Merrimack:- Battle of the Ironclads: Anna Holloway
The Tide Turns at Gettysburg: Stephen W. Sears
Lincoln Barely Wins Reelection: Edward L. Ayers
Lee Surrenders, Disavows Guerrilla Warfare: Jay Winik
COMING OF AGE
Bell's Telephone- The Pluck Heard 'Round the World: Edwin S. Grosvenor
Nicola Tesla Invents AC Current: Bernard Carlson
Morgan Saves the Gold Standard: John Steele Gordon
Ford Doubles Worker Salaries: Robert H. Casey
Wright Brothers Achieve Practical Flight: Tom Crouch
THE WORLD STAGE
US Enters World War I: John Lukacs
Women Suffragists Picket the White House: Jean Baker
FDR Declares a Bank Holiday: William Leuchtenberg
Midway: Craig Symonds
Ike's Fateful Decision on D-Day: Michael Korda
THE MODERN ERA
Discovery of Polio Vaccine by Salk: David Oshinsky
First Americans Die in Vietnam: Stanley Karnow
John F. Kennedy's Moon Challenge: Walter McDougall
Martin Luther King Marches in Birmingham: Clayborne Carson
Barrack Obama Elected: Haynes Johnson
###