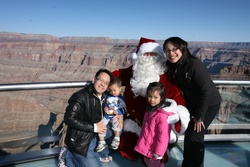 Children visit the Skywalk from all over the world. By combining the majestic beauty of the Canyon with the magic of Christmas, a memory is created that will last a lifetime.
Phoenix, AZ (PRWEB) December 9, 2009
Grand Canyon West will delight visitors with numerous festivities this holiday season. Nowhere else does nature and culture combine to create such a unique and memorable holiday experience for family and friends. Guests gaze in wonder through the Skywalk's glass floor at the majestic soaring cliffs and canyon walls that plunge 4,000 feet to the canyon floor below. The Hualapai Indians share their culture with live Native American dances and a tour of the Native American cultural village representing the Hualapai, Hopi, Navajo, and Plains Indian cultures. And finally, what would the West be without cowboys? Hualapai Ranch, an authentic Old West town, is part of Grand Canyon West and welcomes guests with a warm bonfire, hot chocolate and a marshmallow roast. Cowboys roam the street inviting guests to participate in cowboy games and then climb aboard for a horse drawn wagon ride along the Western Rim.
With all of this fun, no wonder families from around the world chose the Skywalk at Grand Canyon West for their holiday adventure! For more information about the holiday festivities at Grand Canyon West, visit http://www.skywalksanta.com.
About Grand Canyon West: Grand Canyon West, home of the Skywalk and the beautiful West Rim of the Grand Canyon, is owned by the Hualapai Indian Tribe and managed by the Grand Canyon Resort Corporation. Grand Canyon West is one of 28 finalists worldwide to become one of the New 7 Wonders of the World, having been chosen from over 440 participants and 220 countries and welcomes your vote of support at http://www.n7w.com.
Grand Canyon West is reachable online at http://www.grandcanyonwest.com
About Edge Media: Edge Media is a leading interactive advertising agency dedicated to providing its clients with cutting edge technology and innovative marketing strategies via a wide range of services that include consultation, market research, media planning/purchasing/creation, graphic and web design, SEO, internet advertising, public relations, organizational support, social media, and mobile marketing. Edge Media has offices in Phoenix, AZ and is reachable online at http://www.edgemedia.biz and 602-943-2030.
###