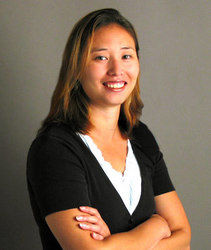 I am thrilled and honored to work with Portent Interactive in a Director capacity. I have many visions to put forth and am eager to make the company even stronger
Seattle, WA (PRWEB) December 8, 2009
Portent Interactive, a Seattle-based internet marketing company recently named Elizabeth Marsten Director of Search Marketing. Marsten will lead the company's SEO, PPC, Copy and Link Building teams in daily trials and triumphs.
"Marsten has shown exceptional leadership skills, a keen attention to detail, and the ability to think both creatively and analytically," says Ian Lurie, Portent CEO. "She's incredibly bright and versatile. She has developed a broad range of internet marketing experience which will serve her well in this position."
A graduate of the University of Washington with an English degree, Marsten considered law school before Portent scooped her up as Pay-Per-Click specialist. She has since enjoyed many successes, including: co-authoring "Web Marketing All In One Desk Reference for Dummies," presenting "Writing Killer Ad Copy…Without Getting Arrested" at the 2009 SMX Advanced Conference, and rising from PPC Specialist to Guru and then to Manager within a few years at Portent.
"I am thrilled and honored to work with Portent Interactive in a Director capacity. I have many visions to put forth and am eager to make the company even stronger," says Marsten. If the past is an indication of the future, expect to see great things from Portent's search marketing teams with Marsten at the reins.
About Portent Interactive:
Portent Interactive is a full-service internet marketing company located in Seattle, Washington. They perform search engine optimization, paid search marketing, social media and site optimization for a variety of clients including Advertising Age, AutoWeek, Attachmate, The Machinists Union, Trump University, and the LA Lakers.
###