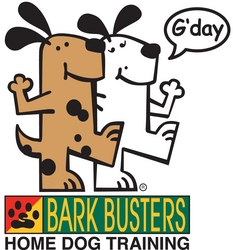 "In planning for this season's holiday festivities, it is important to keep your pets in mind." said Liam Crowe, CEO and master dog behavioral therapist of Bark Busters USA.
Englewood, CO (PRWEB) December 9, 2009
In the spirit of the coming season, Bark Busters, the world's largest dog training company, offers helpful holiday tips for dog owners on how to keep their dogs safe and happy during the holidays.
"In planning for this season's holiday festivities, it is important to keep your pets in mind. While most of us welcome the sights, sounds and smells of the season, holidays can also be chaotic—especially for dogs," said Liam Crowe, CEO and master dog behavioral therapist of Bark Busters USA. "Holiday festivities can interrupt a dog's routine and present a potentially unsafe situation. But by following a few common-sense tips, the holidays can be cheery for everyone—including the family dog."
Holiday foods can be harmful. Many holiday foods are harmful or even toxic to canines. These include fatty or spicy foods, bread dough, fresh herbs, alcoholic beverages, and sweets of all kinds—especially those with chocolate or xylitol, an artificial sweetener.
Particularly dangerous are cooked poultry bones. Cooked bones easily splinter, and the bone shards can cause choking or get stuck in your dog's gums. Instead, give "dog bones" specifically designed for dogs to chew. Ask your veterinarian for suggestions.
Discourage your dog from foraging in the garbage—secure lids on all trash cans.
It's natural that you'd want to share holiday treats with your dog. While a little taste of turkey or sweet potatoes can make your dog happy, don't overdo it—too much of a good thing can make him sick.
Decorations are not playthings. Keep your pet away from holiday plants, many of which are poisonous, such as holly, mistletoe, poinsettias and amaryllis (a type of lily). Also be sure all potpourri is our of your pet's reach.
Snow globes can contain antifreeze, which is extremely toxic to dogs. Keep any antifreeze products away from your happy, tail-wagging dog. If there is an antifreeze spill, send your dog out of the room while you clean up the liquid. Dilute the spot with water and floor cleaner to ensure your dog does not lick the area later.
Keep electrical wires and batteries out of your pet's reach. Chewing or biting anything electrical can cause him shock or burns.
Don't leave lighted candles unattended. A lit candle knocked over by a swinging tail can burn your pet or cause a fire.
Christmas trees can be hazardous. Anchor the tree to the ceiling or wall to prevent it from tipping over.
Hang non-breakable ornaments near the bottom of the tree.
Avoid putting tinsel on your tree. If ingested, tinsel can twist in your dog's intestines and be deadly.
Don't let your dog drink the Christmas tree water. The water may contain preservative chemicals, which can trigger severe indigestion in dogs. Stagnant plain water can breed bacteria and cause nausea or diarrhea to the pet which imbibes.
Regularly sweep up fallen pine needles, as they can puncture holes in a dog's intestines if ingested.
Help your dog feel safe and relaxed. Most dogs get very excited when guests arrive. To help your dog be calmer, exercise him prior to the festivities. After 30 minutes of walking or playtime, your dog will more likely be relaxed or want to nap.
As a general rule, don't allow the family dog to greet unfamiliar guests since unusual activities and commotion can cause him extra stress.
Give your dog a break from the hubbub by putting him in his crate or in a quiet room with his doggie bed. Allow him to rejoin the festivities after guests have arrived.
Pets stressed by unfamiliar events typically pant more, so keep your dog's water bowl filled with fresh water.
Pets like presents too! Help your dog stay busy and out of the holiday trimmings by giving him fun, safe gifts.
"Following these simple tips will help make the festivities safe and happy for your whole family, including your canine companions," added Crowe.
Visit BarkBusters.com for full Holiday Tips.
About Bark Busters
Bark Busters, the world's largest, most trusted dog training company, started in Australia in 1989 and came to the United States in 2000. Since inception, more than 500,000 dogs have been trained worldwide using its dog-friendly, natural methods. With 250+ franchised offices in 40 states and more than 400 offices in 10 countries, Bark Busters is continuing its mission to build a global network of dog behavioral therapists to enhance responsible dog ownership and reduce the possibility of maltreatment, abandonment and euthanasia of companion dogs. Bark Busters is the only international dog training company that offers guaranteed lifetime support. SPCA International selected Bark Busters dog behavioral training services as the "Best of the Best" in its category. No other training company or dog trainer received such a distinction. To fetch a trainer in your area, call 1-877-500-BARK (2275) or visit http://www.BarkBusters.com, where dog owners can complete a Dog Behavioral Quiz to rate their dogs' behavior or learn about becoming a Bark Busters franchise owner.
###