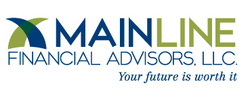 We have introduced a colorful glyph that represents an organic intersection of advisor and advisee
Pottstown, PA (PRWEB) December 16, 2009
Main Line Financial Advisors, Pottstown, Pennsylvania, recently elected to step-up marketing efforts by partnering with local award-winning advertising agency, Virtual Farm Creative (VFC). The Phoenixville, Pennsylvania-based agency will be charged with strategizing efforts to rebrand and position Main Line Financial Advisors while increasing visibility with the development of a professional and competitive marketing campaign.
As a brand, Main Line Financial Advisors is nearly fifty-years-old. Founder, Fred Matarazzo started the company by independently delivering reliable accounting services to businesses in Narberth, Pennsylvania and the surrounding Main Line suburbs of Philadelphia and beyond. Matarazzo became a leading tax advisor as the small company grew and underwent branding iterations and enhancements along the way.
As the company evolved, Matarazzo began offering synergistic services to a growing base of satisfied clients. In 1990, Fred's son Al joined the firm and Main Line Financial Advisors began comprehensively marketing financial planning and accounting. The last ten years have seen the strengthening of the brand and the successful expansion into other communities. Although the firm still has a strong presence in Narberth and all along the Main Line—including a satellite office in Malvern, Pennsylvania—Main Line Financial Advisors is now headquartered in Pottstown.
"Part of the new marketing objective is to explain the name to a community of clients outside of the "Main Line" proper," comments Al Matarazzo, who oversees operations and directs the firm's investment strategies. "We have brought a great offering to a new group of potential clients whose companies can benefit from interrelated services," adds Matarazzo. "It just happens to be called Main Line Financial Advisors."
The timing couldn't be better for the firm's brand overhaul during a promising time in the Montgomery County town. Pottstown is undergoing a hopeful renaissance and is steadily attracting compelling businesses like Main Line Financial Advisors.
"It's our challenge to present an image that is both competitive and professional and to evolve and support a brand that can and will be one of the new pillars in Pottstown's revitalization," offers Todd Palmer, VFC's Creative Director. "Al and his team are committed to growing their business in this community in a meaningful way and the brand needs to reflect that."
At the same time, the strategy behind the brand enhancement is to lessen the influence of the words Main Line and to allow other elements to support the Main Line Financial Advisors image and upcoming marketing mission.
"We have introduced a colorful glyph that represents an organic intersection of advisor and advisee," explains Palmer. "The partnership of pleasing blue and green, representing, say, converging paths in nature, meet to form a third color which, with a proactive approach, will become synonymous with MLFA's excellent services."
Additionally, VFC composed logo concepts utilizing custom typography and formulated a compelling new tag line that will comprise Main Line Financial Advisors' engaging new corporate identity. That identity will direct brand standards that will define the development of competitive corporate collateral and professional marketing materials for the evolving company.
"When brand development is planned, organized and consistent, developing an organized, consistent message to the target audience becomes instinctive," adds Palmer, whose firm specializes in top-to-bottom brand management for companies like Main Line Financial Advisors. "The real objective here is to tell the Main Line Financial Advisors' story in a captivating, understandable way."
Main Line Financial Advisors' branding includes the new corporate identity, logo, tag line and standards representative of the firm's origins, mission and future. Other elements on the production schedule in the annual effort include a communications package, sales materials, corporate collateral and an overhauled Internet presence.
VFC is developing an ambitious website as the centerpiece for the Main Line Financial marketing campaign featuring state-of-the-art, completely custom content management tools and organized updatable content.
"We intend on promoting Main Line Financial Advisors as a highly organized and effective, comprehensive offering with personality," reflects Palmer. "Financial planning and advice are necessary and required services and we want them to be understood clearly while positioning our client as the best choice with whom to partner."
In just a few memorable words, the tag line adopted by Main Line Financial Advisors, "Your Future Is Worth It", says a lot about the firm's history of success, their regard for their clients and their confidence in their abilities. Main Line Financial Advisors' current marketing effort also promises to be worth it in and around Pottstown, on the Main Line and everywhere else that the firm partners with fortunate clients to dispense the gift of guidance.
To learn more about Main Line Financial Advisors, 211 High Street, Pottstown, Pennsylvania, visit the firm's current website at http://www.mlfa.com or call 610.323.5860.
###