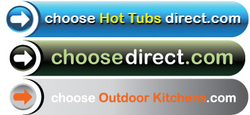 San Francisco, CA (Vocus) December 8, 2009
Not ready for winter? Dreaming of spring? Obviously people are, for they are flocking to ChooseDirect's two top e-commerce sites, ChooseFireplacesandStoves.com and ChooseHotTubsDirect.com. Today, the company predicts sales of 2 times its usually high volume because of its second Cyber Monday sale, which offers buyers a chance to purchase the special pricing they missed last Monday.
Sales calls are pouring in and website traffic is at an all-time high as ChooseDirect discounts its already factory direct pricing to new lows.
Preparing for winter cold blasts, people are visiting Choose Fireplaces and Stoves.com to purchase all their fireplace, stove and fireplace insert needs. Especially selling strongly are EPA tax credit wood burning stoves, fireplaces, pellet stoves and inserts. These items offer up to $1500 in tax savings on a 2009 return, making them hot commodities.
Meanwhile, other people are eagerly anticipating spring, buying ChooseDirect's own brand of hot tubs, Island Escape Spas, as well as those from its manufacturing partners from Choose Hot Tubs Direct.com.
Clearly online shopping continues to reign supreme over that in brick-and-mortar stores as people scour the Internet for the best deals possible. The National Retail Federation states that online sales will account for approximately 10% of all holiday sales, an 8% gain from last year. Today, shoppers will find one-day only pricing at the ChooseDirect sites unmatchable and the customer service and sales support exceptional.
About ChooseDirect.com:
ChooseDirect.com brings the world high quality products at factory direct pricing. Since this e-commerce online retailer is involved with the product all the way down to the factory level, it cuts out many middlemen from the process and is able to offer better prices than the competitors. With advanced factory coordination, ChooseFireplacesandStoves.com provides all its customers with highly customized premium fireplaces, stoves, or fireplace inserts and more at discount prices they can afford. Choose HotTubsDirect.com prides itself in having a large selection of hot tubs. ChooseOutdoorKitchens.com, an online retailer of outdoor kitchens, built in grills, drop in grill islands and many other outdoor kitchen products, also follows the ChooseDirect.com business model and leads the outdoor kitchen industry with high quality products, great customer service, detailed product facts and outdoor kitchen industry information.
CONTACT:
Diana Slampyak, Director of Community Outreach
diana(at)choosedirect(dot)com
ChooseDirect
767 Bryant St., Suite 201
San Francisco, CA 94107
415-618-0681
###