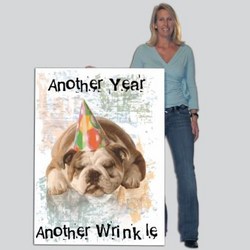 It's our plan to own this market niche for greeting cards and let the folks at Hallmark stick with the small ones.
Davenport, IA (PRWEB) December 7, 2009
By offering greeting cards, Christmas cards and birthday cards larger than most children, VictoryStore.com (http://www.victorystore.com)] has conquered another first with its new store, BigFunnyCards.com (http://www.BigFunnyCards.com).
"We set out to create the largest set of greeting cards in the world for anyone who wants to personalize and send to a friend. At four feet tall and three feet tall, our largest size card is enough to be the hit of any event," said Steve Grubbs, CEO of VictoryStore.com. "We've started with just a few dozen templates, but we plan to have more than 250 by this time next year."
VictoryStore.com offers three sizes, 4', 3' and 2' tall. Each card is customizable online and allows the uploading of photos onto the card. There are six greeting card categories pre-loaded with templates to help customers get started. After a template is chosen, the proprietary 'Victory Design Technologies online design tools allows a user to quickly and easily customize a card for a loved one. The six greeting card categories include: Birthday, Christmas, Get Well, Valentine, Thinking of You and Wedding.
"We offer free ground shipping on all our greeting card options so that once users design a card, the cost of shipping anywhere in the country does not become an issue," said Grubbs. "The best thing is how affordable the cards are. The largest card, 12 square feet, is only $49 delivered."
VictoryStore.com is the nation's premier printer of corrugated plastic signs and promotional signage for candidates, real estate agents and youth sport teams. Located in Davenport, Iowa, VictoryStore.com was founded in 1999 and has been listed as one of America's top 500 Internet Retailers twice.
VictoryStore.com was founded by Steve and Kelli Grubbs and now ships more than a million signs each year to all fifty states. The online design technology developed by VictoryStore.com allows users a broad range of design tools to create almost any card they desire.
"While we don't expect to knock off Hallmark Cards anytime soon, we do hope BigFunnyCards.com can gain a foothold in the market this year and provide an option for people who want something more than the standard birthday, Valentine or Christmas card," said Grubbs. "It's our plan to own this market niche for greeting cards and let the folks at Hallmark stick with the small ones."
###