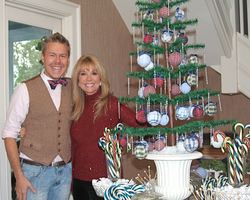 It doesn't have to be expensive to be beautiful.
Franklin, Ohio (PRWEB) December 8, 2009
Factory Direct Craft Supply has been one of the top online craft retailer's since 1998. Since the initial launch, the small family run company has strived to continually focus on the customer. Products, new website features, customer review, etc., are all added on a daily basis, all done to give the customer what they want. In addition to items like primitive decor, home decor, and wedding supplies, Factory Direct Craft Supply still focuses on the one category that initially brought the company up, craft supplies.
On December 6th, these very same products attracted the attention of HGTV, one of the largest home and garden TV networks. Factory Direct Craft Supply was chosen as the place to buy various craft supplies used to decorate Kathie Lee Gifford's home, on HGTV's Celebrity Holiday Homes. Among the products purchased for this special event were, styrofoam balls, artificial snow, blue glitter, green glitter paint, Diamond Dust glitter, and green stem floral wire. Eddie Ross, famous designer, composed some very refreshing decorations using nothing more than the basics. This "back to the basics" approach made his style a match for the products at Factory Direct Craft Supply, where the simple is kept in mind.
Among the decorations designed by Eddie Ross were ball ornaments. These ornaments filled Kathie Lee Gifford's entire house while costing less than a Christmas tree. Ross felt, "It doesn't have to be expensive to be beautiful." Eddie used the styrofoam balls, old plaid shirts, and pins. First the shirts were cut into strips, overlaid on the styrofoam balls, and then pins were used to hold it all together. So there's no glue was required! "Oh, I love anything handy. Anything that is made with a lot of care, a lot love, you gotta [sic] appreciate it," added Kathie Lee Gifford. The artificial snow was used as an additive to the existing decor. A light sprinkle of snow here and there was used to make surrounding decorations pop, along with some sprinkled over the tree, to give that "lightly snowed on" tree look.
"When he was describing how easy it was to make the ornaments, I looked around and said this was doable. I could do this in my place, by myself." - Hoda Kotb
All of the same products they bought are available to each and every customer who visits Factory Direct Craft Supply. Along with a great selection of other products bound to suit your decorating needs.
###