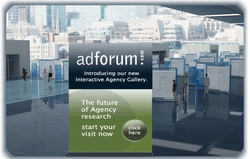 (PRWEB) December 8, 2009
AdForum.com has launched a new Interactive Agency Gallery to showcase the talents of the world's top advertising agencies. The platform improves upon Adforum's previous advertising agency search tools and creative showcases. The 3-D agency gallery is an unprecedented tool for marketers conducting agency and creative research. The new functionality provides users with the ability select and save their favorite agencies to customized short lists. Users can also view work by campaign, brands, and quickly view full production credits with just a few clicks.
The Gallery will be on line as of Wednesday 9th but you can already have a look at it by clicking on adforum.com/iag
The new agency gallery is part of a number of new initiatives launched by Adforum to enhance and bring innovative resources to the global advertising community.
AdForum.com is an online service provider focused on the global advertising industry. The company is partnered with leading trade press in over 10 of the largest advertising markets around the world and also has partnerships in place with the industry's top festivals and award shows. Adforum also partners with some of the largest industry management consultants. In all the company features information on over 20,000 agencies and 100,000 ads from around the world.
###