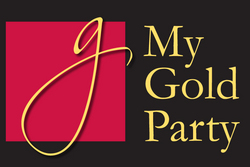 Birmingham, MI (PRWEB) December 9, 2009
My Gold Party is pleased to announce that it is now doing business in Canada. As of November 2009, individuals can now send their unwanted gold items to My Gold Party in exchange for a quick payment (USD). Once the package is received, My Gold Party tests and weighs each piece. Once the entire package has been evaluated, a quote is then sent via email to the customer. At this point, the customer can choose to accept the quote or have the items returned to them at no additional cost.
Here is what Julie H. from Tennessee had to say about her experience with My Gold Party: "I was hesitant to just send my gold pieces in the mail, concerned that I would not receive a fair value if I was not there to 'make my case.' I could not have been more wrong! The entire process was fair, professional, with excellent communication and punctuated by the receipt of a generous payment! Thank you for your professionalism and your responsiveness. As a result, my friends will be sending in their box of goodies! Thanks!"
My Gold Party plans to expand its home party business to Canada in 2010 as well. My Gold Party is a safe and convenient way to get rid of old and cluttered gold. At the gold party, a My Gold Party representative will test and weigh the partygoers gold, and pay them on the spot for their unwanted items. What a perfect night out for your friends and family!
My Gold Party, LLC was founded by January Thomas in the beginning of 2008. What started as one person throwing gold parties has now turned into over 75 representatives throughout the United States and continues to grow. For more information on how to sell gold please click here. To speak with someone at My Gold Party, please call (888) 44-MYGOLD or email us at info(at)mygoldparty.com
# # #