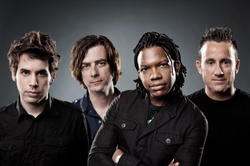 Buena Park, Calif. (Vocus) December 8, 2009
Knott's Berry Farm will have something for the entire family this New Year's Eve with a variety of dance music, family friendly comedy, a Midnight Mayhem Pyrotechnic Show in Calico Square, the Grammy nominated newsboys in concert and all Knott's rides and attractions open until 1 a.m.
Headlining the evening will be a special performance by the Christian rock group, newsboys. One of the most popular Christian music artists of the past two decades, the newsboys have released 14 studio albums including 'In the Hands of God,' which was released this past May. The music of the newsboys has even reached space with NASA using the newsboys song 'In Wonder' as the space shuttle's wake-up song this past November.
But that is not all that is going on this New Year's Eve at Knott's Rock and Ride. You will want to put on your dancing shoes and get on the dance floor as Knott's rolls out not one, but several dance parties throughout the park. Get some salsa instruction in Knott's Fiesta Plaza, try your hand at ballroom dancing in Knott's Boardwalk Ballroom, or learn a little line dancing in Knott's Wilderness Dance Hall. There will be dancing in the streets with music everywhere with something for everyone.
The whole family will enjoy a special performance of "Snoopy on Ice" and Bone Hampton, a family friendly comedian. In addition, Camp Snoopy will be open with rides and shows for the young and the young at heart.
At midnight, the sky will be ablaze with color in Calico Square as we ring in the New Year the Midnight Mayhem Pyrotechnic Show. Tickets for the Rock 'N' Ride New Year's Eve are $37.99 (Regular) and $17.99 (Juniors/Seniors). Knott's Annual Pass holders receive free admission. For more information and to purchase tickets, visit http://www.knotts.com.
Contact: Michele Wischmeyer
or Jennifer Blazey
(714) 220-5130
# # #