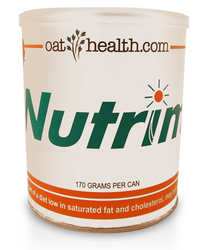 Nutrim users may be unsure about dietary decisions or may need encouragement. This program will provide step-by-step monthly assistance.
Momence, IL (PRWEB) December 9, 2009
Improving one's health can be a challenging endeavor. Factors such as dietary decisions and physical activity come into play when fighting obesity and reducing high cholesterol levels. Even with excellent product offerings and helpful advice, following health and wellness regimens can still be challenging. For these reasons, Oathealth.com has developed Nutrim-4-Life, a monthly support program for Nutrim users dedicated to lowering their cholesterol levels.
Nutrim is the only USDA developed, natural cholesterol-reducing supplement on the market. Nutrim is an all-natural oat bran supplement in a powder form that can be added to both foods and beverages without changing the taste. Since its creation in 2007, Nutrim has proven to be a powerful, effective aid for at-risk people who want to lower their cholesterol levels.
Despite Nutrim's success, OatHealth.com acknowledges that taking steps towards healthier living can still be tricky.
"Nutrim users may be unsure about certain dietary decisions or may need encouragement to stay on track," OatHealth director of ecommerce Matt DeYoung said. "This program will help by providing step-by-step monthly assistance and a discounted price of the product for members."
The Nutrim-4-Life program is the first health support system of its kind. The program was designed to answer questions and provide support for people trying to reduce their high cholesterol levels. Members will have access to online group coaching seminars from the company's nutrition staff, an online forum where members can interact and share with one another and a monthly DVD consisting of webinars, podcasts and even lower cholesterol recipes that a Nutrim user can use to better their quality of life.
Furthermore, members of the Nutrim-4-Life program will receive a significant price reduction of Nutrim powder by joining. Regularly priced at $55.95 for a 30-day supply, Oathealth.com is offering the product for $30.95 for members enrolling in Nutrim-4-Life.
According to Oathealth.com, the goals of the program are to deliver the lowest possible price for the Nutrim product and provide a helpful support system for people struggling to lower their cholesterol.
Nutrim has proven to be an effective supplement in helping reduce cholesterol levels of at-risk individuals in conjunction with exercise and a low cholesterol diet. By offering the Nutrim-4-Life program, Oathealth.com makes it easier for members to lower their cholesterol and improve their health.
Visit Oathealth.com about more information about Nutrim and the Nutrim-4-Life membership program.
###