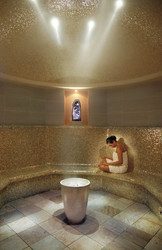 "These high-quality, nurturing therapies help achieve The Spa's goals for wellness and our efforts to become increasingly green-focused and sustainable" - Denise Vitiello, Spa Director
New York, NY (PRWEB) December 9, 2009
The Spa at Mandarin Oriental, New York, known for its forward-thinking Spa philosophy, is delighted to announce its latest treatment, Warmth & Wellness. This exclusive 80-minute holistic treatment developed with Amala, a premium quality, eco-conscious skincare line, includes a body polish, clay wrap and a massage to detoxify the body, replenish the skin and clear the mind.
In celebration of the launch of this new green and sustainable treatment, The Spa at Mandarin Oriental, New York is donating $20 to the New York Central Park Conservancy for every Warmth & Wellness treatment booked between now and April 30, 2010. Mandarin Oriental, New York selected the Central Park Conservancy, a non-profit organization, because of its dedication to the enhancement and preservation of one of Manhattan's largest and most beautiful green spaces just steps from the hotel.
"We are excited to initiate this donation program to the Central Park Conservancy as a way to support ecologically-based initiatives in our local community," said Spa Director Denise Vitiello. "This treatment is also the first of a full-line of exclusive therapies in development at The Spa at Mandarin Oriental, New York using Amala skincare products. These high-quality, nurturing therapies help achieve The Spa's goals for wellness and our efforts to become increasingly green-focused and sustainable," states Vitiello.
Warmth & Wellness begins with a body polish containing crushed olive stone to exfoliate, and a gentle fine-grain sea salt to re-mineralize the skin. After the polish, a detoxifying warm body mask made of white clay is applied to the body to draw out impurities. While the clay mask envelopment works its magic, the therapist performs balancing chakra energy work to enhance the clearing process of both the mind and body. The treatment finishes with a 40-minute body massage using a combination of velvety body butter, nourishing organic Mediterranean Myrtle, Fig and Olive Oil.
"Warmth & Wellness was created to nurture and enhance both physical and emotional wellness. Myrtle, a flowering plant used for its cleansing and restorative properties, is a key ingredient referenced in Greek Mythology as being sacred to the Goddesses. The combination of the body polish and wrap helps prepare the body for the full-body massage to come so the guest receives the maximum benefits of the massage and feels revived and refreshed at the close of the treatment," says Spa Therapist, Chelsea Shaddix, the creator of Warmth & Wellness.
Amala is known for its "skincare with a pure conscience" philosophy. Their products contain the highest possible concentration of organic and wildcrafted plant ingredients grown in their native regions to provide unsurpassed potent performance and wellness benefits. These ingredients are sourced from global farm partners and grown according to certified organic agriculture practices, which positively impact the earth. "When it comes to skincare, you shouldn't have to sacrifice results for responsibility," said Amala's founder, Ute Leube. The 80-minute Warmth & Wellness treatment is priced at USD 305 Mondays - Wednesdays and USD 315 Thursdays - Sundays. For reservations contact The Spa at +1 212 805 8880. For more information about The Spa, please go to our website at http://www.mandarinoriental.com/newyork.
###