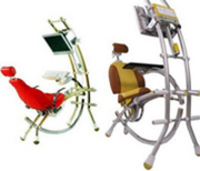 We always keep a look out for new studies and creative solutions – That is what has really set us apart for the last 30 years in the industry
Tolland, CT (PRWEB) December 14, 2009
MCergo, a leading ergonomic furniture retailer has just moved its headquarters to a much larger facility in Tolland, Connecticut – where a newly rolled out 3,000 sq. ft. state-of-the-art showroom is just the beginning. Showcasing the latest ergonomic furniture and devices, MCergo.com takes furniture from boring to extraordinary.
Comfortably Productive
"We always keep a look out for new studies and creative solutions – That is what has really set us apart for the last 30 years in the industry" says Ronald Regan, owner of MCergo.com.
Like a vision from the future MCergo displays workpods like the Nethrone, iClubby, and The Emperor : all fully adjustable. Examples of just a few of MCergo's many unique cutting edge ergonomic solutions.
Being the world's largest dealer Workrite Ergonomics dealer you can be sure to see plenty of innovative adjustable tables, keyboard trays, and monitor arms.
MCergo.com currently holds contracts with many Fortune 100 companies such as Aetna, The Hartford, United Technologies and others. Leveraging their volume from these contracts and outstanding online sales they not only offer lower prices, but are capable of manufacturing custom products.
In fact MCergo.com has their own line of keyboard trays and an ergonomic chair. Many MC Ergo products were designed by working with doctorate ergonomists and MCergo President Ronald Regan.
Utilizing their new 60,000 sq. ft. warehousing operation they stock and ship many products directly from stock, cutting out lead times and reducing distribution costs.
MCergo.com undoubtedly lives up to their slogan "Comfortably Productive". With solutions ranging from time-tested to new and ground breaking, you can be sure their expert staff will recommend exactly the right product for your situation
For more information about MCergo.com or to view its collection of ergonomic solutions, visit MCergo.com.
# # #