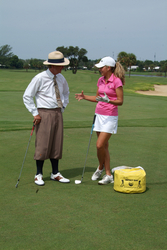 "I have found that male golfers can often see nuances, comprehend the mechanics, and really understand more from watching the female swing than from their male counterparts." Matt Kluck Master PGA Professional
Pittsburgh, PA (PRWEB) December 17, 2009
For the first time, avid golfers can get golf lessons only reserved for the pros at GolfProGirls.com. Six professional female golfers, Katie Miller, Susan Choi, Stacey Bieber, Amber Prange, Julie Miller and Charlotte Campbell founded the premier online golf website. The key feature of the site is the "GolfProGirls Teaching Academy", which is the first time avid golfers can get step-by-step inside instruction from the teachers the pros use.
The pros' teachers available 24/7 in the Teaching Academy include the following:

Rick Martino, former head of PGA instruction;
Dr. Gary Wiren, member of the PGA Hall of Fame and Golf Magazine's World Golf Teachers Hall of Fame;
Todd Sones, Golf Digest Top 50 Teacher and short game guru;
Laird Small, Golf Digest Top 50 Teacher and head of instruction at Pebble Beach,
Matt Kluck, Master PGA Professional and,
Dr. Joe Parent, Golf Digest Top 10 Mental Game Expert, author, Zen of Golf.
These pros take you deep inside the game each providing individual twists on instruction using high-definition video, and answer user-submitted questions - often with differing views. GolfProGirls.com also includes a link to each professional's blog, providing fine points available for the first time ever to amateur golfers.
According to pro Susan Choi, "It is rare that a golf pro would open access to their own teachers. This is a unique chance to really learn the tips that can quickly take strokes off your game."
Laird Small, Top 100 Teacher and head of instruction at Pebble Beach added, "It is more than a teaching site. GolfProGirls has created the perfect forum for my teaching peers to compare, contrast and debate teaching principles."
The overall site also offers the latest information on gear, golf travel, training aids, rules and etiquette, the most recent dos and dont's of the sport; as well as interviews with past legends and aspiring stars.
About GolfProGirls.com
GolfProGirls.com is the only golf web destination where avid golfers can get golf lessons only reserved for the pros. The teachers the pros use are available at GolfProGirls.com
# # #